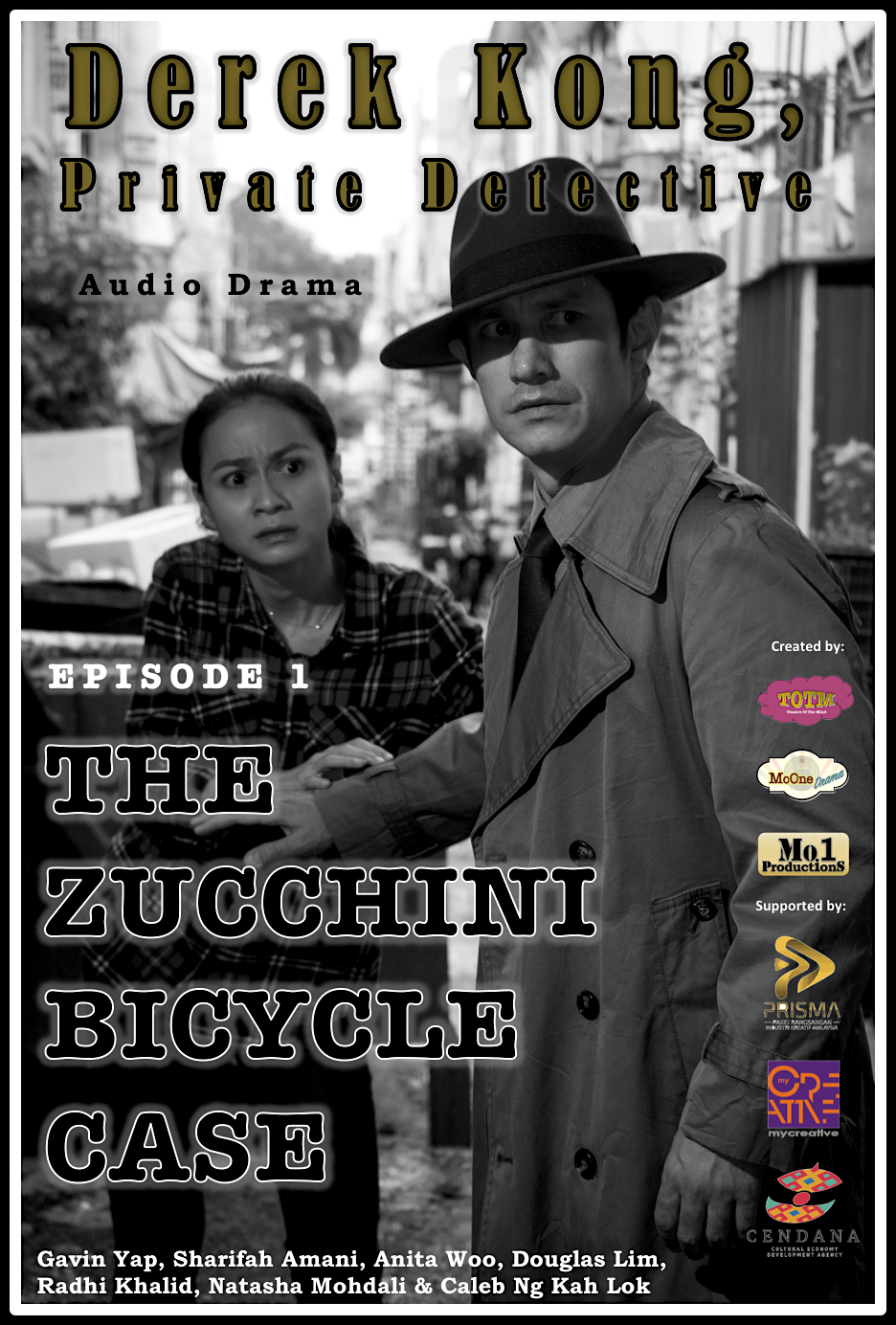 Theatre of The Mind
presents:-
FREE AUDIO DRAMA
Derek Kong, Private Detective
A private detective from an unsuspecting suburban community of Kuala Lumpur solves cases by fantasising that he is a character in a 1950s noir drama.
Pilot Episode – The Zucchini Bicycle Case
A waitress presents Derek Kong with a case of a missing cyclist who has mysteriously disappeared from social media without a trace.  When the clues lead to a known dangerous gang, Kong has to give chase & find him.
Release Date: 31st July 2022
Platforms: Spotify, Soundcloud, YouTube, Apple Podcasts
https://www.youtube.com/channel/UCS8K-HVs5_swv9b7dqg6uDw
Cast: Gavin Yap, Sharifah Amani, Anita Woo, Douglas Lim, Radhi Khalid, Natasha Mohdali, Caleb Ng Kah Lok
Written & Created by: Amina Jindani
Directed by: Gavin Yap
Produced by: Anita Woo, MoOne Drama, MO1 Productions
Supporters: CENDANA, MyCreative, PRISMA
Audio Design: Simon, Othman & Tuck at Tribe Audio
Foley Sounds: Yeop Mahidin, Muhammad Yunus
Photography: Muhammad Yunus
Music:
Autumn Spirit by Pavlo Butorin (licensed by PremiumBeat.com)
Detective City by Studio Le Bus (licensed by PremiumBeat.com)
Spy Fever by Jonathan Boyle (licensed by PremiumBeat.com)
Sultry Sax Ballad by FromTheMomentMusic (licensed by Envato Music)
Sax Solo Blues by Worms Team (licensed by Envato Music)
THE JINGLIES: Thasha Gunaseelan, Kaoru, Tan Zie Aun, Samuel Low, Lai Suk Yin
Recorded at: 101 Studios
TTDI Businesses: Fun Sportz Cycles, Quartet TTDI, Restoran Ismail
#derekkongprivatedetective
#MYRadioPlay
#theatreofthemind
#CENDANA
#Malaysia
#TTDI
#audiodrama
#radioplay
#noir
#detective
#stories
#parody
#comedy
#drama
#voiceacting
#podcast