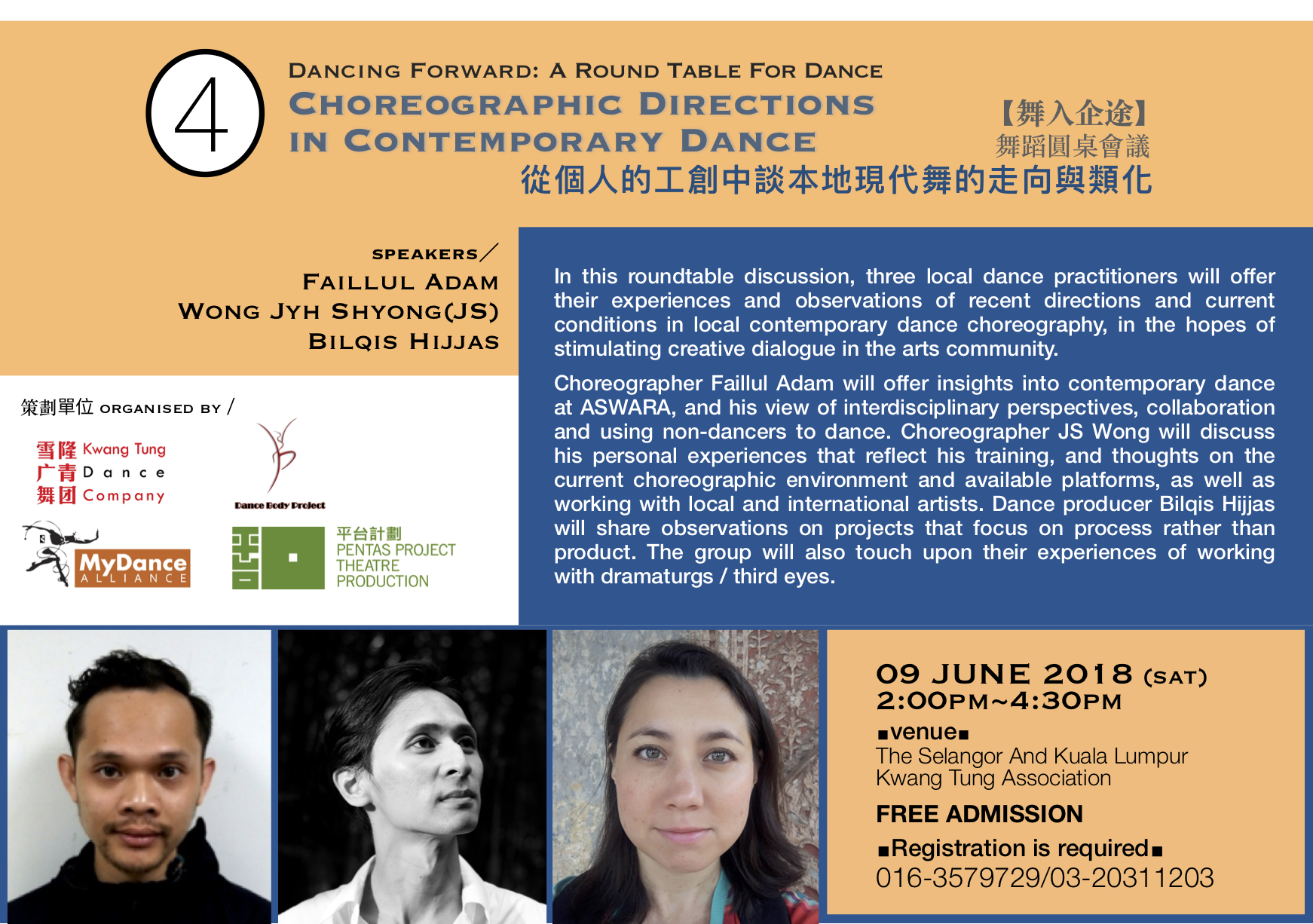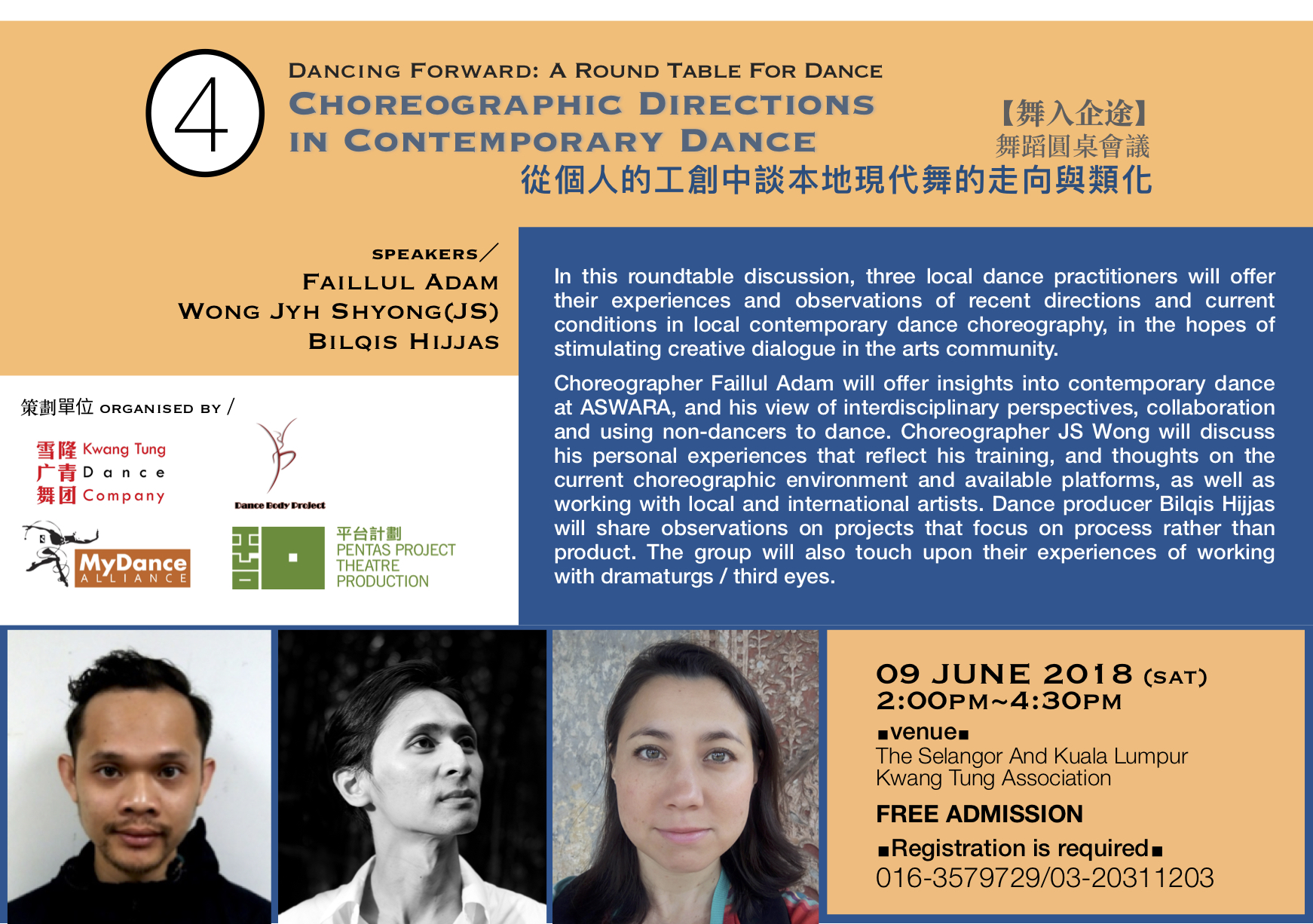 Dancing Forward 4 : A Round Table For Dance
FREE ADMISSION
09 JUNE 2018 (sat) @ 2:00pm~4:30pm
venue/ ︎ The Selangor And Kuala Lumpur Kwang Tung Association
Registration is required /︎ 016-3579729 or 03-20311203
Speakers/ Faillul Adam, Wong Jhy Shyong, Bilqis Hijjas
In this roundtable discussion, three local dance practitioners will offer their experiences and observations of recent directions and current conditions in local contemporary dance choreography, in the hopes of stimulating creative dialogue in the arts community.
Choreographer Faillul Adam will offer insights into contemporary dance at ASWARA, and his view of interdisciplinary perspectives, collaboration and using non-dancers to dance. Choreographer JS Wong will discuss his personal experiences that reflect his training, and thoughts on the current choreographic environment and available platforms, as well as working with local and international artists. Dance producer Bilqis Hijjas will share observations on projects that focus on process rather than product. The group will also touch upon their experiences of working with dramaturgs/third eyes.
_______________________________________________________________________________
Mohd Nur Faillul (Faillul Adam) is working as full time lecturer in ASWARA. He He was selected to participate in the International Cultural Exchange program in 2009 that organized by The John F. Kennedy Centre. n 2014, and he was selected for the Step up Dance Project in Ireland with Fabulous Beast Dance Theatre in Ireland. In 2016, he performed Langkau, a collaboration work with theatre artists that were supported by The Krishen Jit Astro Fund. He also won BOH Cameronian Arts Awards 2016 for Best Choreographer in a Mixed Bill for the collaboration work with Suhaili Michelline called Nasi Ekonomi.
Wong Jyh Shyong received his Master of Fine Arts from Graduate Institute of Choreography, Taipei National University of the Arts in 2013 and Bachelor of Fine Arts from The Hong Kong Academy for Performing Arts with First Class Honors in 2005. He was previously a dancer with Cloud Gate Dance Theatre of Taiwan from 2005 to 2009, and artistic director of Damansara Performing Arts Centre & DPAC Dance Company from 2013 to 2016. In the 9th and 11th BOH Cameronian Arts Awards in Malaysia, he received the Best Featured Performer award. He is now a dance department's lecture of Cultural Centre, University of Malaya, as well as an independent dance artist.
Bilqis Hijjas works in contemporary dance in Malaysia and the Southeast Asian region, writing, producing and organizing. She is currently the President of MyDance Alliance, a non-profit organisation supporting dance in Malaysia, and the Vice-President for Southeast Asia of World Dance Alliance Asia-Pacific, a networking organisation for the dance community in the region. She directs the dance program at private arts centre Rimbun Dahan, which offers residencies for contemporary dance choreographers, and is the founding editor of Critics Republic, an online platform encouraging the growth of critical discourse in the Malaysian performing arts community.