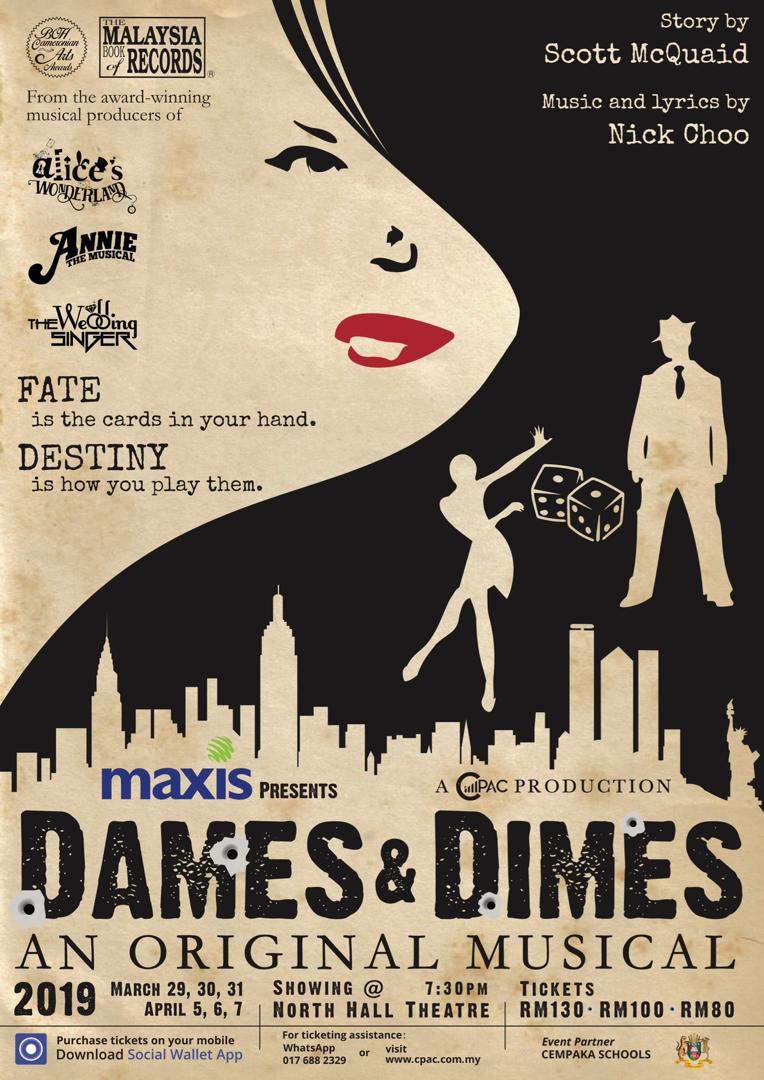 CPAC's DAMES & DIMES, THE MUSICAL
Written & directed by Scott McQuaid
Music & lyrics by Nick Choo
STORY
Dames & Dimes is an original musical set in 1934 on New York's most famous street, Broadway. The story follows two young girls from out of town trying to make it big on the musical stage, but they soon find out that Manhattan is a tough town. With mobsters running the entertainment industry and con artists managing talents, these girls will need more than fancy looks and vocal skills. They'll need an ace up their sleeve. Will these girls ever become Broadway stars or will the law bring down the mobsters first. Come see the action, the drama and calling lights of Broadway.
Dates: March 29, 30, 31 & April 5, 6, 7 | 2019
Time: 7:30PM
Duration: Approximately 150 minutes (including intermission)
Venue: North Hall Theatre
Audience Information
Performances are recommended for a general audience ages 5 and above.
Tickets: RM130 | RM100 | RM80
Get 10% Early Bird Discount for ticket purchases before 16th March 2019!
Ticket Purchase Guide
1. Download Social Wallet App on your mobile
2. Register and key in the Authorization Code 0151188 for activation.
3. Cash In
4. To Shop for your tickets, go to Menu > Services > Applets > Cempaka.