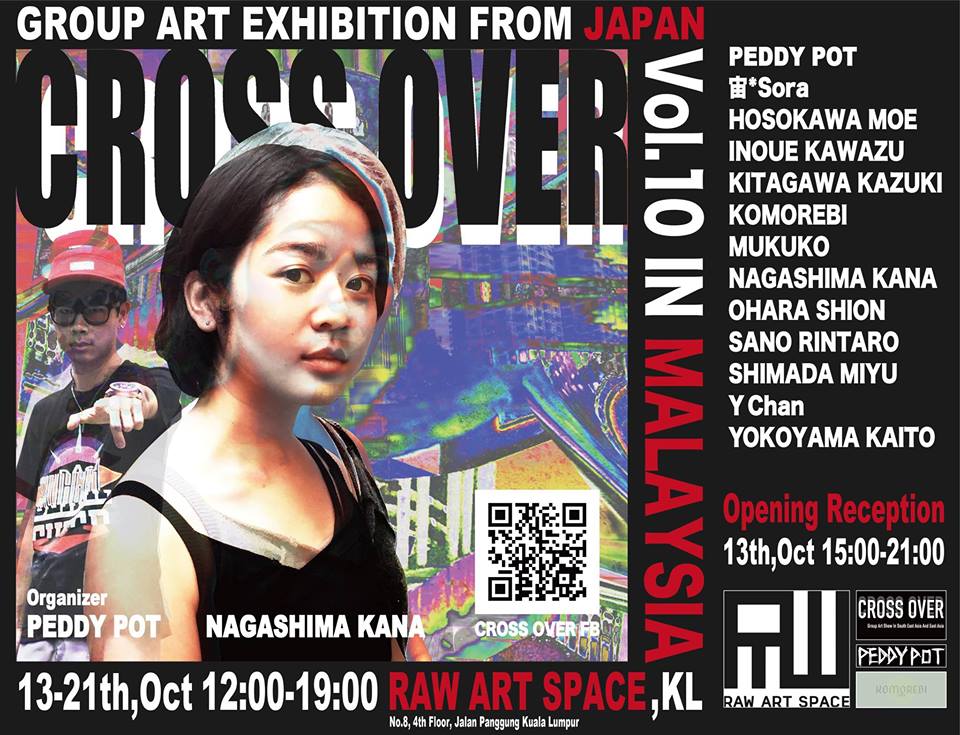 Cross Over Vol.10 in Malaysia
Group Art Exhibition from Japan
Participate Artists:
PEDDY POT
宙*Sora
HOSOKAWA MOE
INOUE KAWAZU
KITAGAWA KAZUKI
KOMOREBI
MUKUKO
NAGASHIMA KANA
OHARA SHION
SANO RINTARO
SHIMADA MIYU
Y Chan
YOKOYAMA KAITO
Venue: RAW Art Space, No.8, 4th floor, Jalan Panggung, 50150 Kuala Lumpur, Malaysia.
The exhibition starts from 13 October – 21 October 2018
​
Opening reception 13 October 3pm – 9pm
​
Gallery operating hours
Monday – Sunday
12pm – 7pm
_____________________________
ABOUT Cross Over:
Cross Over was established by Peddy Pot, a graphic artist exhibiting at international exhibits and art fairs in Southeast and East Asia, as an exhibition group that invites participants from a variety of genres, including graphic designers, painters, performers, and photographers, to exhibit in various countries and regions out of a desire to host exhibits that would be more casual than those they have participated in so far.
Cross Over here means the viewer intersecting and interacting with a variety of styles, thus expanding both the artist and the viewers' perspectives and values.
Many people in the rapidly developing countries of Asia are interested in Japanese culture, and we would like these local people who come to see our exhibit to think, "There are so many interesting artists and creators in Japan!" and hopefully gain a little insight about us and about Japan.
Also, we would push the exhibitors to work forward, helping them not to be complacent with their current environment but instead understand that they can also work in other countries and regions, that where they are now is not everything. We are currently expanding our area of activity to include Taiwan, Singapore, Thailand, Cambodia, and Myanmar.
We hope to give back to the exhibitors and viewers, even if just a little, through exhibits and other future activities.
Expect great things from us in the future!
Event Dates
Venue
Website