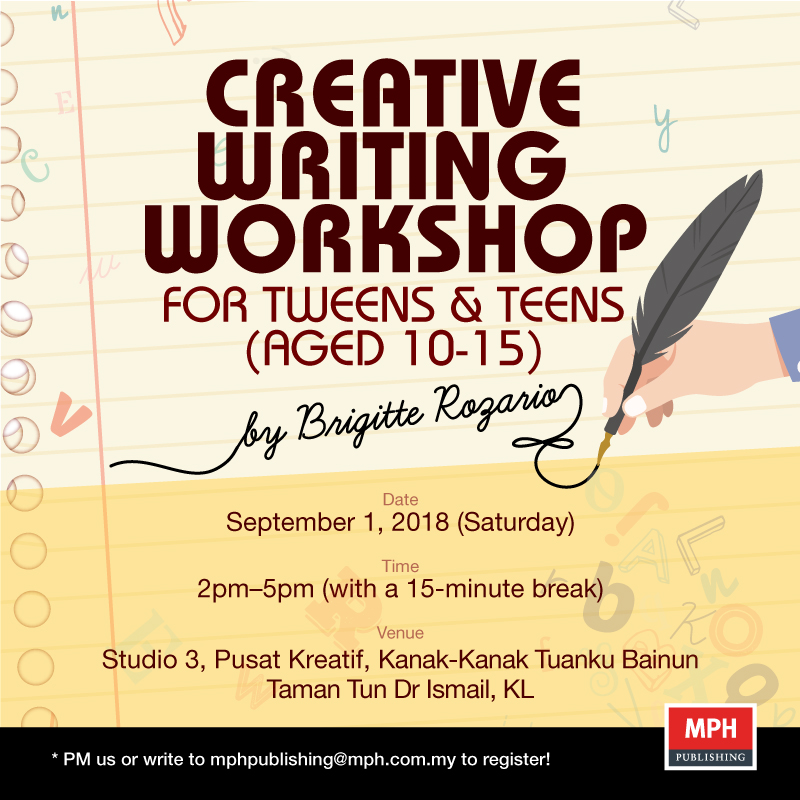 Many children like to write but don't really know what to write. Their knowledge and experience of writing comes from school where the emphasis is on essay writing. For a child, this can sometimes become dull if the topics are of no interest to them.
The CREATIVE WRITING WORKSHOP FOR KIDS brings fun into writing while teaching children some basics of writing, such as story flow, introduction and conclusion, and writing descriptively.
It will be conducted by author, journalist, editor and trainer Brigitte Rozario.
About Brigitte:
BRIGITTE ROZARIO is a freelance writer and editor based in Selangor. She has been a journalist since 1989, attached to The Star for 23 years. She has published a picture book series called The Adventures of Beebo & Friends (published by MPH), and a customised book called First Day at School (published by Pixajoy). She also conducts workshops for children and adults. For more information, go to www.brigitterozario.com or fb.com/brigitterozario.writerandeditor/.
Modules:
• What goes into a story
• Plot
• Action/drama
• Character development
Break (3.45-4pm)
• Descriptive writing
• Dialogue
• Intro and Conclusion
• Flow