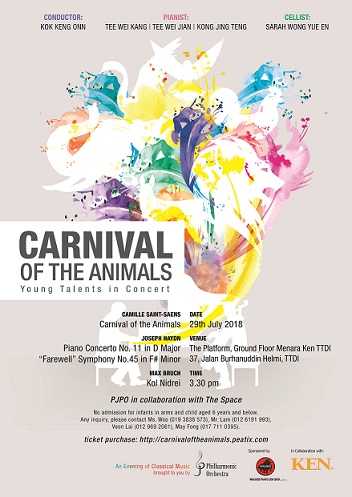 About The Petaling Jaya Philharmonic Orchestra and the Performance:
Petaling Jaya Philharmonic Orchestra (PJPO) is a community orchestra made up of talented and dedicated musicians, serving as a platform for local artist to perform and gain experience.
For this concert titled "Carnival of the Animals", we invite our own PJPO young talents to showcase their skills as a soloist, performing various works that include Haydn, Saint-Saens and Max Bruch.
(a) Carnival of the Animals – Camille Saint-Saëns
Performed by our twin brothers on 2 pianos, a flutist, clarinetist and the orchestra, we take you on a tour to the zoo where the sound and feel of the animals are imitated here.
(b) Piano Concerto No. 11 in D Major – Joseph Haydn
The main artist for this piece is a twelve-year-old boy, performing this challenging concerto while portraying the composer's humorous character.
(c) Kol Nidrei – Max Bruch
A serious concert piece for cello and orchestra. The soloist is a teenage girl expressing the down time and the console moments of life.
(d) Symphony No. 45 (Farewell) – Joseph Haydn
The humour of the composer is fully revealed here, where, at the last section of the music, the musicians leave the stage, leaving only 2 violinists to complete the music. The purpose was to send a message to the duke, that they were overworked and wish to go home to their families.
Conductor: Mr. Kok Keng Onn
Pianist: Tee Wei Kang, Tee Wei Jian, Kong Jing Teng
Cellist: Sarah Wong Yue En
—–
Where:
The Platform, Menara KEN TTDI, Jalan Burhanuddin Helmi, Taman Tun Dr Ismail, 60000 Kuala Lumpur, Malaysia
When:
Date: 29th July 2018 (Sunday)
Time: 3.30pm (approx 2 hours with intermission)
Please arrive at least 30 minutes before the show. (Doors open at 3.00pm.)
Dress code: Smart Casual
Tickets:
Category 1 – RM108
Category 2 – RM86
Category 3 – RM55
Group Tickets (Min. 10 tickets) – Category 1: RM98 ; Category 2: RM78
NO CANCELLATIONS / REFUNDS or CHANGES are allowed once ticket(s) sold.
***Please note that this is a FREE SEATING event. It is advisable to arrive early to secure your seats.***