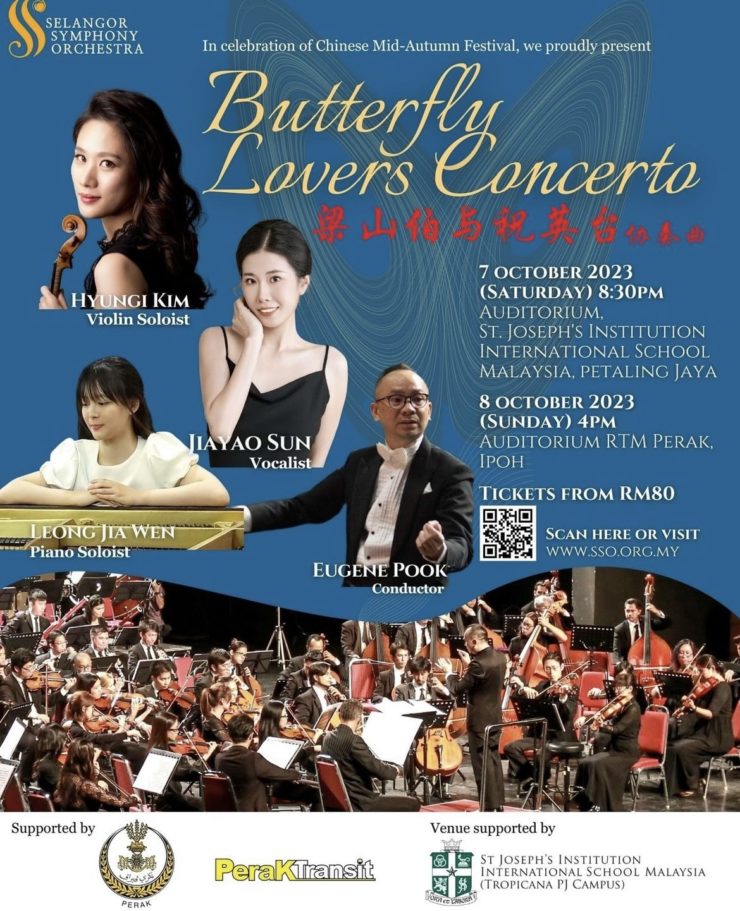 Dear Selangor and Ipoh Family, Friends and Supporters, YOU ARE INVITED to our upcoming concerts on Oct 7 & 8 in PJ and Ipoh. One of the loveliest Chinese festivals, the Mid- Autumn Festival is coming! Let's get ready to experience a moon-moment music festival sharing the joy of family reunion, ethnic unity and social harmony.
This performance will showcase one of the most well-known Eastern and Western classic tunes such as:
-月亮代表我的心 (Moon Represents My Heart)
– The Blue Danube Waltz;
– 梁山伯祝英台小提琴协奏曲 The Butterfly Lovers violin concerto;
– Moon River;
– Song to the Moon by Dvorak;
一但愿人长久 (Dan Yuan Ren Chang Jiu);
– Clair de Lune by Debussy, and many more!
The concert will feature some of the best soloists including violinist Hyungi Kim, vocalist Jiayao Sun, and pianist Leong Jia Wen, the first prize winner of the 1st SSO Concerto Competition. Your presence is the most precious gift to us and we hope to see you there!
– PJ concert: 7th October 2023 (Saturday) 8:30pm @ Auditorium, St. Joseph's Institution International School Malaysia (Tropicana PJ Campus).
– Ipoh concert: 8th October 2023 (Sunday) 4:00pm @ AUDITORIUM RTM Perak, Ipoh.
Tickets from RM80. For more info and to purchase your tickets visit http://www.sso.org.my