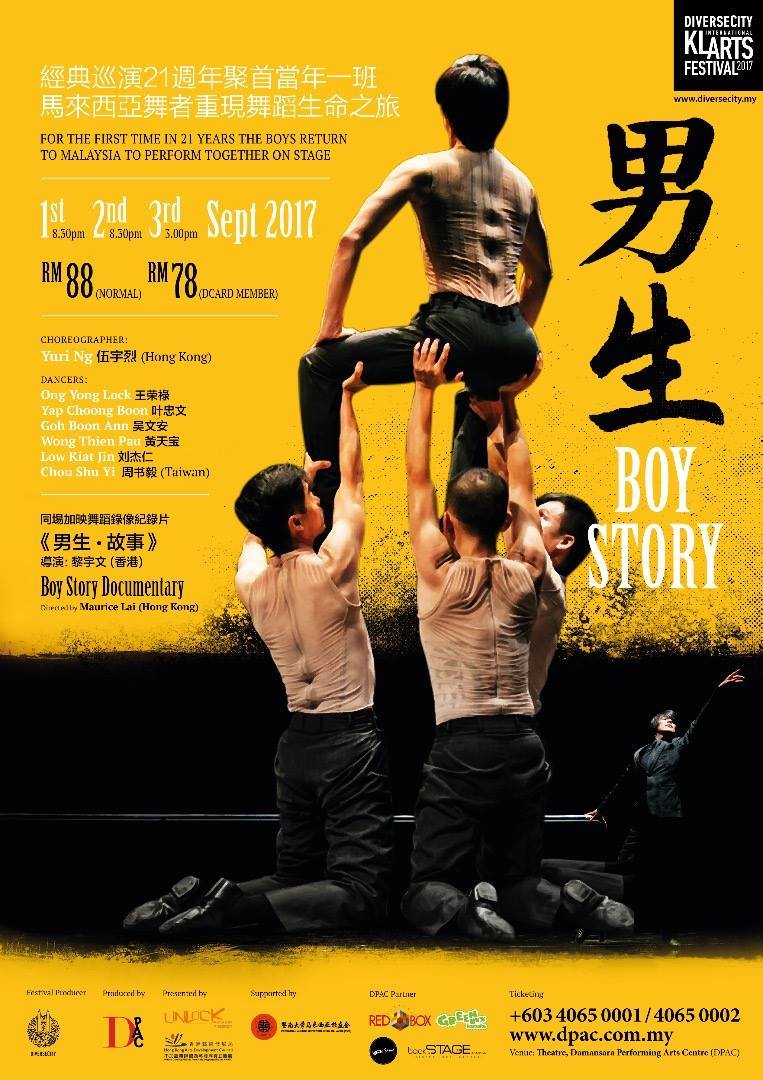 Presented by Unlock Dancing Plaza (Hong Kong)
Produced by Damansara Performing Arts Centre (DPAC)
Choreographed by Yuri Ng (Hong Kong)
About Boy Story
Hong Kong choreographer, Yuri Ng, known for his quirky ingenuity, was awarded the Prix d'Auteur at the Rencontres Chorégraphiques Internationales de Seine-Saint-Denis (Bagnolet) in France in 1998 for his work "Boy Story". This prestigious work, premièred in Hong Kong back in 1996, is a classic which marks a glorious chapter in the history of Hong Kong dance. Ingeniously choreographed for six male dancers, it explores the anxiety towards self-positioning and identity. It portrays the boys' romantic yet persistent pursuit of dreams in the city through body language.
Nineteen years later, in 2015, Ong Yong Lock, a dancer in the première of "Boy Story" and currently, the Artistic Director of Unlock Dancing Plaza, reunited with the original cast comprising of performers from Malaysia such as Yap Choong Boon (葉忠文), Jay Jen Loo (劉傑仁), Goh Boon Ann (吳文安); Wong Thien Pau (黃天寶) from the 1998 version, and newcomer, Chou Shu-yi (周書毅) from Taiwan to revive the classic. Boy Story was restaged at the Theatre, Sheung Wan Civic Centre (Hong Kong) in 2015 and the Main Theater, Cloud Gate Theater (Taiwan) in 2016. Now, they are back in their homeland, Malaysia to present the 21st anniversary celebration of this legendary prestigious dance piece.
Malaysian Premiere: Documentary of Boy Story by Maurice Lai
In addition, awards-winning director Maurice Lai (Hong Kong) has expanded Boy Story by creating an eponymous documentary that chronicles the performances of the casts from different generations, as well as the enthusiasm and motivations of these male contemporary dancers spanning two decades. The documentary will be shown in the first half of the show and then, continue with the dance work in the second half.
Damansara Performing Arts Centre will hold three shows of the legendary Boy Story featuring the Malaysian premiere of its documentary as well as the iconic dance performance.
Don't miss out on this rare opportunity!
关于 《男生》
原创版的《男生》由伍宇烈编舞,首演于1996年香港演艺学院戏剧院,由六位男舞者融合芭蕾、现代、体操及特技等高难度的肢体动作。《男生》的编创过程中,适逢九七香港回归前夕,伍宇烈在北京见到例数计时的数字钟,并将其引用在舞台上,透过六名男舞者出中国男性面对廿一世纪的彷徨。此作品过去十八年曾十四次在多个地方巡演,在国际上更嬴取编舞奖,经由不同年代的现代舞者演绎。
二O一七年,《男生》迈入21周年,演出将在马来西亚白沙罗表演艺术中心正式上演!演出上半场将播放由黎宇文导演执导的《男生‧ 故事》纪录片,叙述从《男生》缘起、历年发展一路呈现到新版重制、世代对话;而下半场将由艺术总监暨原创版舞者王荣禄及四位马来西亚熟男舞者刘杰仁、叶忠文、吴文安及黄天宝,大家回到自己的国家马来西亚,亲身上阵来一次纪念演出。加上陈宜今作排练指导,及台湾当代型男周书毅,为大家上台再一次演出这经典之作。
Date/Time:
1st September 2017 (Friday), 8.30pm
2nd September 2017 (Saturday), 8.30pm
3rd September 2017 (Sunday), 3.00pm
Venue:
Theatre, DPAC.
Ticket Information:
Tickets: RM 78 (Dcard members)/ RM 88 (Normal)
2 In 1 Promotion*: RM 140 (Dcard members)/ RM 150 (Normal)
*This promotion is good for one ticket for two performances including Boy Story by Unlock Dancing Plaza (Hong Kong) and Beyond Calligraphy by Guangdong Modern Dance Company (China). Applies to walk-in purchases or bank transfers only. To reserve seats, please contact us at +603 4065 0001, 4065 0002 / +6012 406 5020. Reservations are subject to availability at the time of booking. We will contact you via email within 24 hours. Contact us for full details.
All tickets are inclusive of RM3.00 ticket handling fee and 6% GST.
Facebook:
Boy Story 男生 by Unlock Dancing Plaza (Hong Kong)
Ticket Office:
Damansara Performing Arts Centre
H-01, DPAC, Empire Damansara
Jalan PJU 8/8, Damansara Perdana,
47820 Petaling Jaya, Selangor.
Tel: +60 3 4065 0001, 4065 0002
DPAC ticket entitles you to enjoy all our special savings* at DPAC's Partners at Empire Damansara! The Promotions is running until 31st December 2017! So, please hold on to your DPAC tickets and take this fabulous opportunity (valid for a one-time use and a week from the performance date itself at any partnership restaurant or shop for each ticket)! T&C apply.