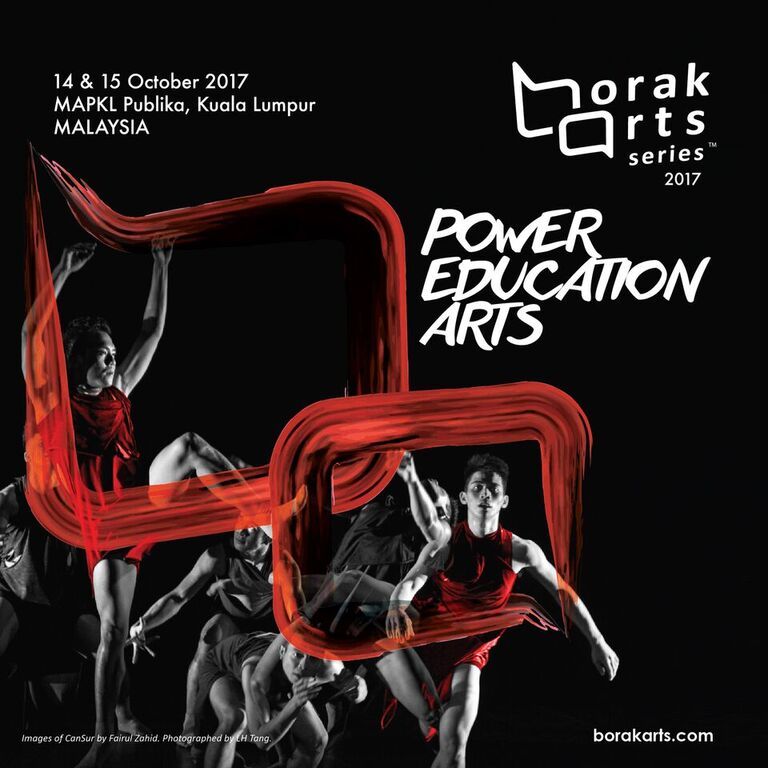 Southeast Asia's most anticipated performing arts conference, Borak Arts Series, has welcomed more than 760 of delegates from 20 countries, 17 international festival directors and venue programmers, 32 international and local funding stakeholders, since 2013, and is now returning to its official home base – Kuala Lumpur, Malaysia after a 2-year run in Georgetown, Penang. In conjunction with My Performing Arts Agency's (MyPAA) fifth anniversary, Borak Arts Series' fifth conference will be scheduled on 14 and 15 October 2017 at MAPKL Publika, Kuala Lumpur, Malaysia.
POWER. EDUCATION. ARTS
Borak Arts Series brings together artistes, presenters/producers, intermediaries, and funders and includes a keynote address, panel discussions, round table sessions, networking platforms and performances. MyPAA is honoured to have the award-winning Founder of the Cambodian Living Arts, Arn-Chorn Pond, as the distinguished keynote speaker this year. At age 11, Arn Chorn-Pond experienced firsthand the atrocities of Cambodia's Khmer Rouge genocide regime that saw the demise of up to 90 percent of Cambodia's artists and preservers of the Khmer cultural heritage. He is one of the few who survived the genocide and was determined to rescue what was left of Cambodia's traditional arts by navigating the country in search of remaining arts practitioners who would pass on their artistry to the future generation. Arn Chorn-Pond is to speak on "Arts and Culture is Essential for Conflict Recovery and Sustainable Development".
Other speakers to be featured in Borak Arts Series 2017 include Suon Bunrith (Cambodian Living Arts), Dr. Joseph Gonzales (The Hong Kong Academy for Performing Arts), Chumpon Apisuk (Asiatopia, Thailand), Kok Heng Leun (Drama Box, Singapore), June Tan (Five Arts Centre, Malaysia), YBhg. Dato' Kamil Othman (Ministry of Communications and Multimedia, Malaysia), Norzizi Zulkifli (Universiti Teknologi MARA), Elizabeth Cardosa (Badan Warisan Malaysia), Ahmad Fuad Rahmat (BFM 89.9, Malaysia), Nadira Ilana (Malaysian writer and filmmaker), Faiza Mardzoeki (Institut Ungu, Women's Arts & Cultural Space, Indonesia) and more.
This year's conference features the following topics:
• "Arts & Culture Education: Yesterday & Tomorrow"
• "Politics, Activism and the Arts. How Do We Support Advocacy For Freedom of Expression and Cultural Rights in Southeast Asia"
• "Is Cultural Policy Relevant to Artists"
• "Preserving Versus Resisting Arts and Culture"
Further strengthening the content for this year's conference and to aid in bringing local and Southeast Asian works across borders, Borak Arts Series brings back the One-on-One Meetings with international venue programmers and festival directors and Pitchpad ASEAN, a forum for Southeast Asian creators and arts professionals to share and discover new performing arts projects. Up to ten submissions from Southeast Asia are to be pitched to this year's stellar line-up of international festival directors and venue programmers in the presence of more than 170 performing arts professionals.
Borak Arts Series 2017 features:
• Kristopher McDowell | Asia Pacific Consultant for KMP Artists & Program Manager for Illawarra Performing Arts Centre, Australia • Zohar Spatz | Executive Producer | Australian Performing Arts Market, Australia • Joe Sidek | Artistic Director | George Town Festival, Butterworth Fringe Festival, Rainforest Fringe Festival, Malaysia • Joseph Mitchell | Festival Director | OzAsia Festival, Adelaide Festival Centre, Australia • Hiromi Maruoka | Director | Performing Arts Meeting in Yokohama, Japan • Yoshiji Yokoyama | Programmer | World Theatre Festival Shizuoka, Japan • and a delegation of American venue programmers led by KMP Artists, USA
Early bird tickets (RM98 nett – 2 day admission, F&B, conference kit) are available till 31 Aug 2017. Normal tickets (RM162 nett – 2 day admission, F&B, conference kit) are available from 1 Sept 2017 onwards. Book via www.borakarts.com . For enquiries call +603 6207 9566 or email [email protected] .