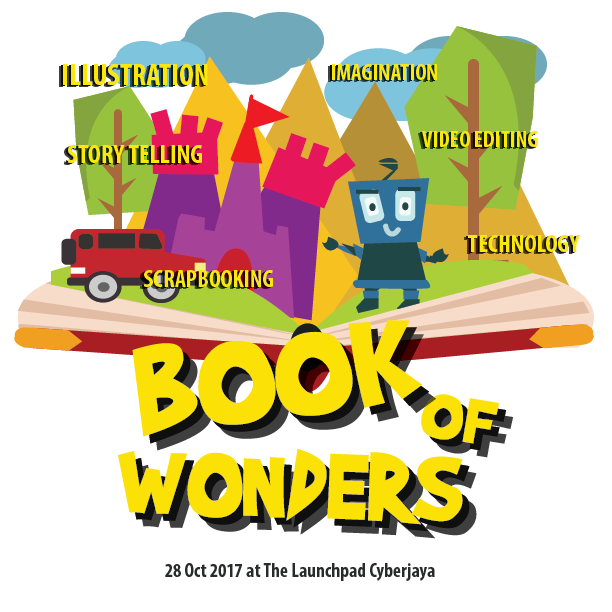 BOOK OF WONDER!
Bring up kids imagination and creativity along with learning digital technology to create the valuable portfolio. Kids able to learn, play and explore their imagination. Learn to make beautiful character, video editing, storytelling and more!
Who should attend this?
Kids ages 7-12 who want to explore the digital illustration, create videos and love creative storytelling and loaded with wonderful imagination!
Write your own favourite story!
Kids able to create own story from their own creativity, character, and draft the storyline.
Draw from imagination.
Learn how to create basic character making using Adobe Illustrator based on the story created! Kids will learn step by step character building while learning the tools and design the character and all things needed for the story they create.
1, 2 3 Action!
Bring the story alive by learning how to make videos! Kids will be able to express their story in the video and use the element of sound effect and background music!
Scrapbooking!
FUN TIME!
Create a fancy scrapbook of your own story! Let the fun and exciting adventure lies in your book! Bring home your scrapbook and continue at home! Bookscrap material will be given in the workshop, but feel free to bring along your own!
Story-telling!
Kids can show and tell their own story full of adventure to the rest.There will be winners of the best storyteller and best scrapbook!
Age: 7-12 years old
Requirement: Bring your own laptop
Food, material & software will be provided
Only RM150 per pax (early bird)
Limited seats available.
Location: The Launchpad @ 1st Floor, Block 2330, Century Square, Jalan Usahawan, 63000 Cyberjaya. Drive here using Waze: https://waze.to/lr/hw2829k750
Like us on Facebook: The Launchpad
Follow us on Peatix: http://activate.peatix.com