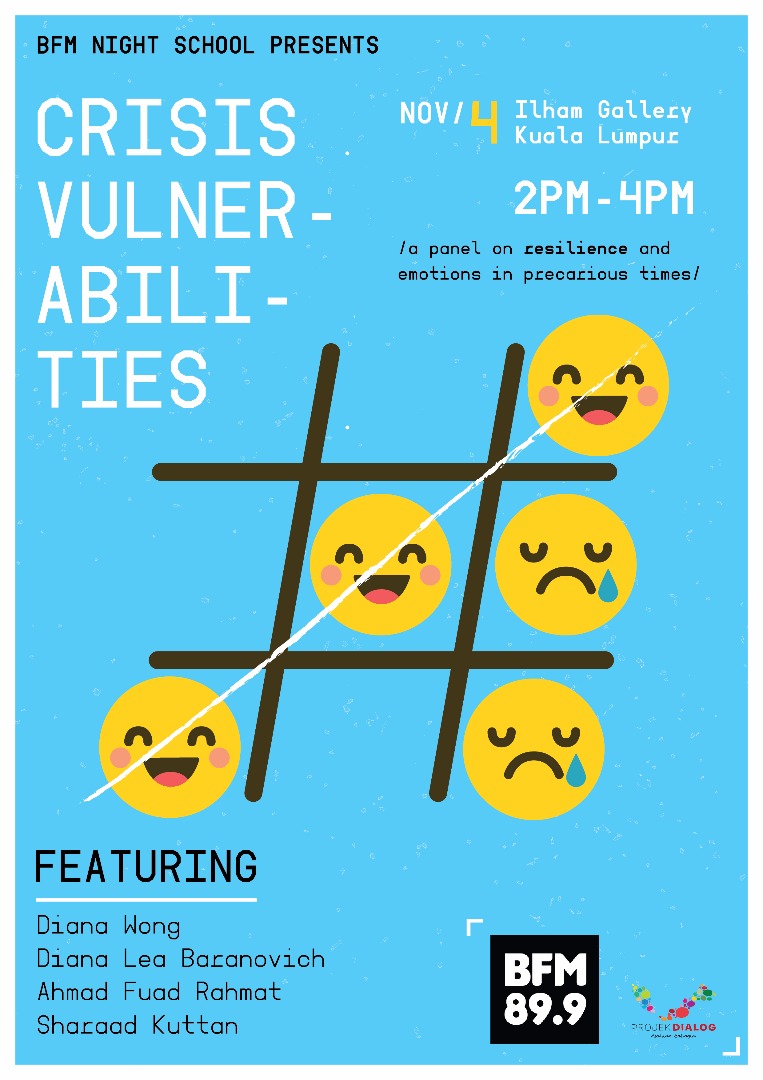 ILHAM CONVERSATIONS
BFM Night School: Crisis Vulnerabilities
4 Nov 2017, 2:00pm
Level 5, ILHAM Gallery
How do we affirm life in a world that's breaking down? How do we stay hopeful while politics, nature and the economy are falling apart? What role could ugly emotions – fear, pessimism, resignation, anxiety etc – play to refine our ideals?
ILHAM plays host to this live edition of BFM Night School which reflects on those questions and more to understand the uses and abuses of feelings amidst precarious times.
Inequality is widening and nuclear warfare is likelier than ever, intensifying fears as all sides evoke their insecurities for privilege and attention. Our era of digital hyper-connectivity has also amplified exclusion and inequality. Our political vocabulary is increasingly dominated by emotional wounds and appeals to injury.
Join us as we think through the ways we can grapple with the challenging present without losing our sense of curiosity and connection.
Panelists:
Diana Wong is a sociologist who has published extensively on gender justice, migration, labour, war and historical memory.
Diana Lea Baranovich is an Associate Professor at the Department Of Educational Psychology And Counselling in University Malaya.
BICARA ILHAM
BFM 89.9 Night School: Kerentanan Krisis
4 Nov 2017, 2:00ptg
Tingkat 5, Galeri ILHAM
Apakah yang terjadi kepada kerentanan di dalam dunia yang penuh dengan krisis?
ILHAM mengacarakan edisi secara langsung rancangan BFM Night School ini yang akan membincangkan bagaimana aspek 'kerentanan' digunakan dan disalahgunakan di zaman yang penuh dengan konflik dan kekalutan.
Ketidaksamarataan menjadi semakin berleluasa, kemungkinan meletusnya perang nuklear nampak lebih nyata berbanding dulu, dan perubahan cuaca menyebabkan berlakunya pemupusan secara besar-besaran. Ini hanya meningkatkan lagi rasa ketakutan apabila semua pihak — kanan dan kiri — meluahkan perassan tidak yakin mereka untuk mendapatkan keistimewaan dan perhatian. Kosa kata politik kita kelihatan kian sarat dengan bermacam-macam luka emosi.
Apakah yang kita faham mengenai makna solidariti atau kebahagiaan kolektif dalam keadaan sebegini? Bagaimanakah kita menanggap sinergi kreatif di antara sempadan-sempadan dan kehidupan yang sering berubah-ubah? Bagaimanakah kita boleh terus-menerus berharap dalam dunia yang sememangnya kian hancur? Mungkinkah perasaan-perasaan buruk sedikit sebanyak berguna juga akhirnya?
Dengarkan Fuad Rahmat, Sharaad Kuttan dan teman-teman berbicara tentang persoalan-persoalan ini dan banyak lagi isu yang lain.