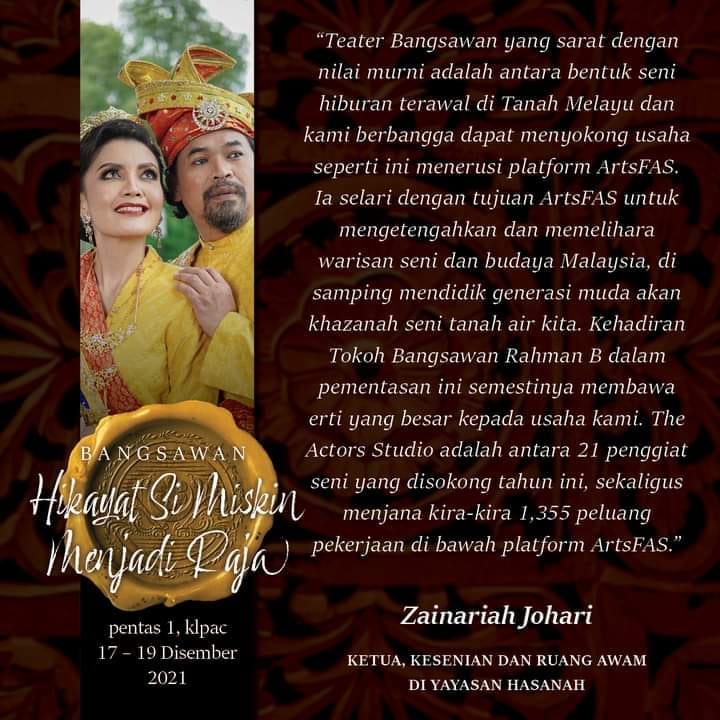 The Bangsawan Theatre, loaded with noble values, is one of the earliest forms of entertainment in Malaya and we are proud to support such efforts through the ArtsFAS (Arts for All Seasons) platform, an initiative by Yayasan Hasanah.
It's aligned with ArtsFAS's aim to highlight and preserve Malaysia's arts and cultural heritage while educating the younger generation on the country's legacy in the arts.
We are also pleased that prominent Bangsawan figure, Rahman B will be gracing the Bangsawan Theatre.
The Actors Studio is among 21 artists supported by ArtsFAS this year, generating approximately 1,355 jobs under the ArtsFAS platform."
Dipersembahkan oleh The Actors Studio Seni Teater Rakyat & Persatuan MEKAR Budaya
Disokong oleh #ArtsFAS (anjuran Yayasan Hasanah) & The Kuala Lumpur Performing Arts Centre (klpac)
Tarikh & Masa:
17 & 18 Dis 2021 @ 8pm
19 Dis 2021 @ 3pm
Tiket: RM30, RM45, RM60
(Pelajar boleh hubungi melalui WhatsaApp untuk diskaun lanjut)
Tempat: Pentas 1, klpac
❗ Syarat-syarat Kemasukan:
1. Menerima 2 dos vaksin ; 2. Status kesihatan MySejahtera yang dibenarkan (low risk atau casual contact – no symptoms sahaja) ; 3. Umur 18 & atas
*Penganjur mempunyai hak untuk menolak kemasukan jika syarat di atas tidak dipenuhi. Tiada bayaran balik akan dibuat kepada yang telah membeli tiket.
🎟️ Beli Tiket
https://bit.ly/bangsawan_tickets
Jualan telefon dan atas kauter tidak dibenarkan. E-tiket sahaja.
❓ Pertanyaan / Tempahan Pelajar
WhatsApp +6018 227 7212