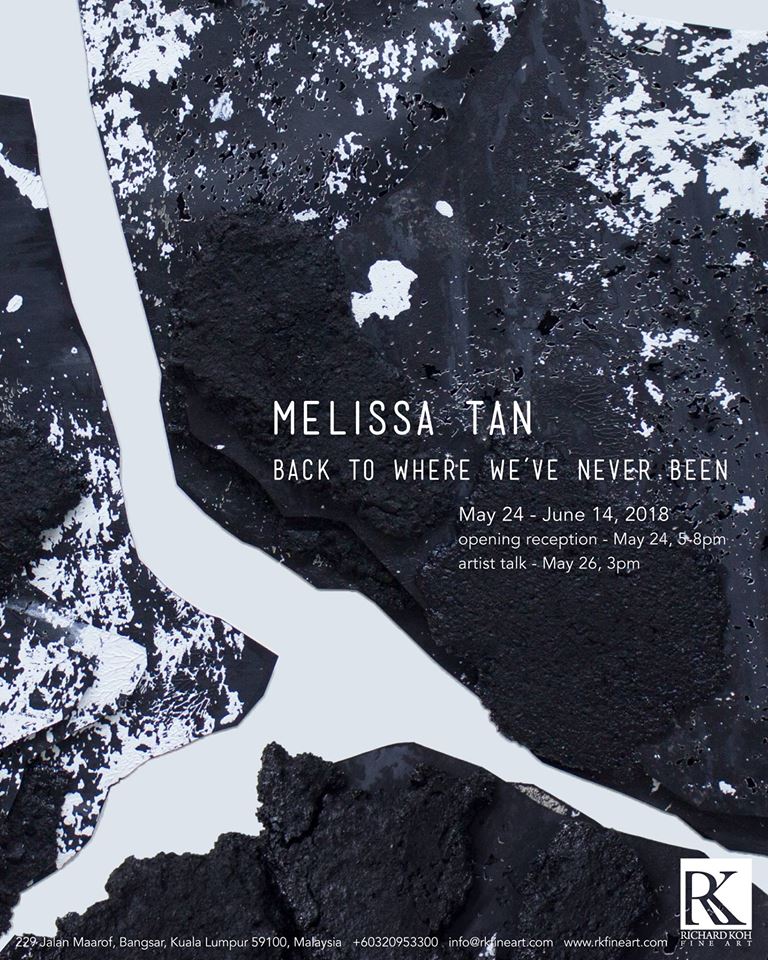 Richard Koh Fine Art (RKFA) is pleased to announce a solo exhibition by Melissa Tan at Richard Koh Fine Art, 229, Jalan Maarof, Bukit Bandaraya, Bangsar 59100, Kuala Lumpur. Her first exhibition in Kuala Lumpur, Melissa Tan presents 16 wall and floor sculptures in Back to Where We've Never Been, scheduled to run from 24 May – 14 June. The exhibition is a continuation of the artist's feature at Singapore Biennale 2016 with the Opening Reception taking place on Thursday, 24 May 2018 at 5pm. An artist talk will be held on Saturday, 26 May at 3pm.
Overwhelmed by the continuous reparation ongoing in the artist's home country since December 2017, Melissa considers the ambiguity experienced in her daily commute through her wall-mounted pieces and mixed media sculptures. These roads, pathways, bridges and surrounding features in her daily encounter that are recognizable yet seemingly foreign given the absence of ablation caused by the constant upgrade works. These pathways that appear unblemished would reveal signs of weathering only upon close scrutiny – through hints of patchwork, ie. a darker shade of tarmac or cement of the sidewalk. The efficient upgrading exercise undertaken by the island's infrastructure is so thorough that it borders the extent of being self-regenerative.
As one who's interests lies in mapping the weathering process as a formation of our surrounding landscape and nature, Melissa first adopted paper and the eventual metal plates to convey the geometry in the crystallization process and formation of rocks. This unique approach of layering laborious cutouts of various media has since been unanimous with her practice, and has evolved to gain more dimension over the course of time. Transient and ephemeral, Melissa's practice is influenced by sci-fi novels, popular culture, astrophysics, mythology, natural sciences, her paper and mixed media sculptures had since adopted various identities from earthly gravels, crystalised rocks, meteorites and asteroids rocks from space, to reclaimed land and most recently, tarmac roads.
Back to Where We've Never Been is the artist's first exhibition in Malaysia. It is also Melissa's first attempt in adopting found fragments and plaster to further inform her sculptures. These 16 artworks documents various construction sites found across the Malaysian causeway, layered over screen printed images of land fragments, taking the form of regions within the Lion city divided and dissected by her many expressways. The construction of these artworks discuss the erosive power of constant rejuvenation and the brief and forgotten journey that it undertakes. They contain the artist's sentiment of threading through foreign ground on familiar territory.
MELISSA TAN – BACK TO WHERE WE'VE NEVER BEEN
Tues – Sat, 10am – 7pm
Free admission