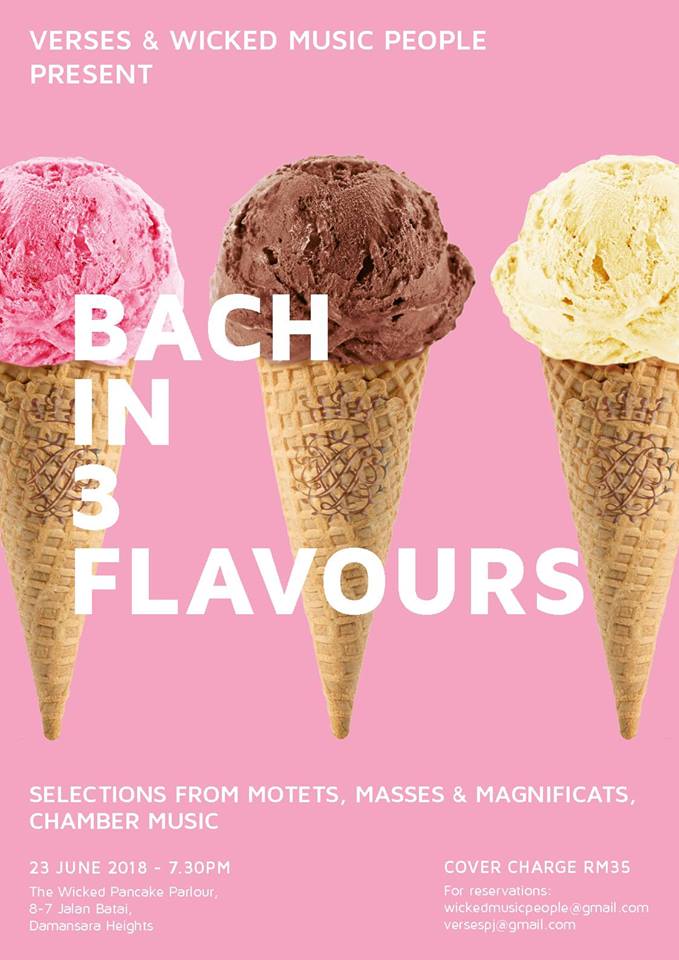 Join VerSeS and The Wicked Music People for an all-Bach programme concert.
Cover charge: RM35
For reservations:
[email protected]
[email protected]
#Bi3F
The production features an evening of full Bach Program, with selections that highlight 3 different textures of his music: polyphonic choral, vocal music and instrumental music (hence 3 flavors).
We aim to bring the music of this towering Baroque icon in a down-to-earth and accessible manner to the Malaysian audience. We strive to present high quality virtuoso music in a no-frills atmosphere and we provide historically informed performance, sharing with the audience the historical background and context of these music, and appreciate them from an entirely musical perspective.
While Bach's chorales are well known and forms a significant portion of his choral works, his Motets on the other hand are a special treat, for there are only 6 of them in existence, 2 of which will be performed in the production.
Lobet den Herrn, alle Heiden BWV 230 for SATB;
Komm, Jesu, komm BWV 229 for SATBSATB
Bach's cantatas are another major collection of his musical creations, but his setting of the Magnificat and Mass are also of exquisite beauty and musical intelligence. Therefore for vocal music, we present a selection of Duets as follows:
et misericordia (Magnificat BWV 243) for Alto & Tenor;
et in unum dominum (B Minor Mass BWV 232) for Soprano & Alto;
Wann koomst du, mein Heil? (Cantata BWV 140) for Soprano & Bass
For his instrumental music, we go a step further by having it performed on period instruments (the only period instrument ensemble in the Malaysia). The program includes:
Fugue in G min BWV578
Air, Orchestral Suite III BWV 1068
and more.
With a short intermission for active discussion and maybe a serving of ice-cream cone, we believe the concert will be an evening of fun filled music appreciation.
In line with the music sharing intent of this production, we also conduct short workshops on Baroque Music and Instruments, complete with preview performance sessions to local choirs and music schools that are willing to host us. To date we have completed the session at Ann Perreau's Music School and soon at the Tian Hou Kong Temple Choir. If you would like us to present at your choir/society, please also feel free to contact us!
******************
FULL HOUSE: pls visit https://www.facebook.com/events/249950108907823/ for our second show