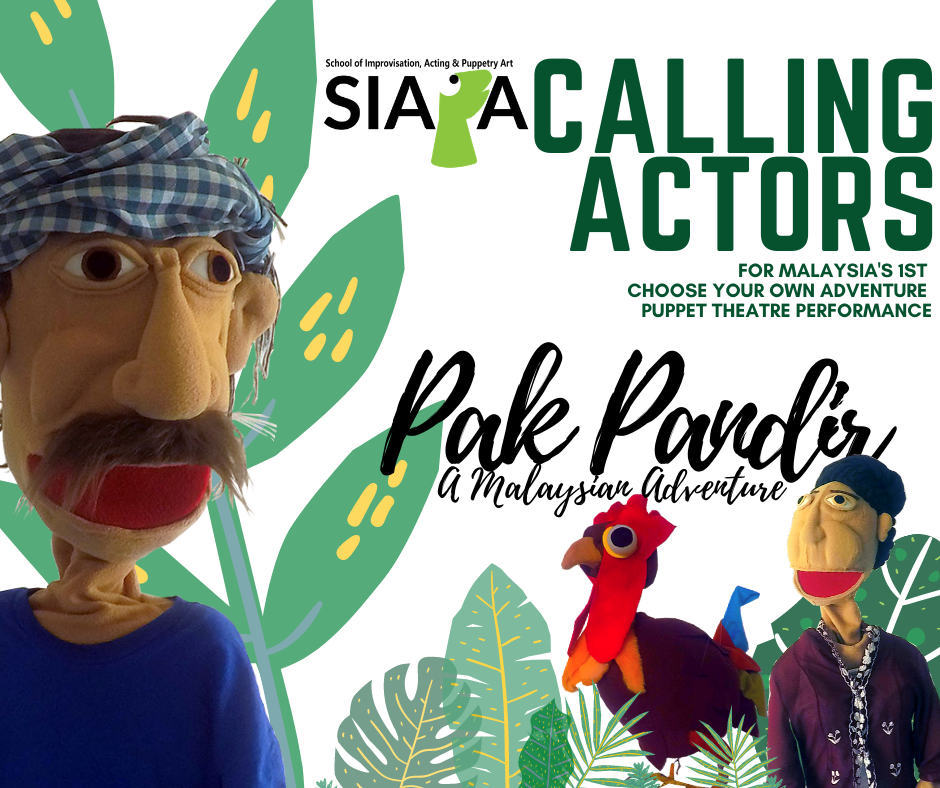 Video Submission Audition Call
Pak Pandir: A Malaysian Adventure
SIAPA Theatre presents Pak Pandir: A Malaysian Adventure, a 'choose your own story' interactive puppet theatre show that puts its audience in the shoes of the characters themselves. You decide the fates of Pak Pandir, Mat Jenin and Badang as they take on a journey of great peril deep into 16th century ancient Malacca where they search for a mysterious keris to save Mak Andeh from the hands of evil Markosa, the Queen of Shadows.
We will be looking for a cast ensemble of 10 actors that will portray over 20 characters in total. The director will create a breakdown once casting is complete.
This show is aimed especially at children and young adults to inspire them through the magical world of storytelling, puppetry, and theatre.
This show will be cast as an ensemble. All roles are open and actors of all ethnicities, ages, sizes, abilities, and across the gender spectrum are encouraged to audition. We welcome anyone and everyone to try.
Please note that all health protocols will be followed by all involved during rehearsals and performances.
AUDITIONS
As this is a puppet theatre production, you are required to present your audition using a puppet. Worry not, as there are many household objects that can be made into awesome puppets. While we give points for beautiful DIY creations, we are also perfectly fine if you want to use your plain ol' work sock over your hand. What matters most to us is how you use your puppet and your ability to present your puppet's character through the voice and movement of your hand.
Please present:
A 1-2 minute contemporary song of your choice
Then, choose ONE of the following:
A 1-2 minute contemporary comedic monologue of your choice.
OR
A 1-2 minute story of an event that had an impact on your life
Auditions will be by video submission and will be accepted until 11.59 PM on September 5, 2020.
Please upload your audition to YouTube (you can make it unlisted), copy the URL, and then submit it along with your CV to [email protected].
Callbacks will be held in person on the 12th and 13th of September 2020. Selected candidates will be notified through email.
TEAM
*Wanna gain experience back-stage instead? Well, if you are interested in learning the ropes of making a puppet theatre production, come on board as a volunteer and experience it hands-on. Contact us now and let us know what you're keen on learning.
Wanna find out more about the show? Feel free to email us at siapa.[email protected] or Whatsapp Helena at +6012 698 1368. See less