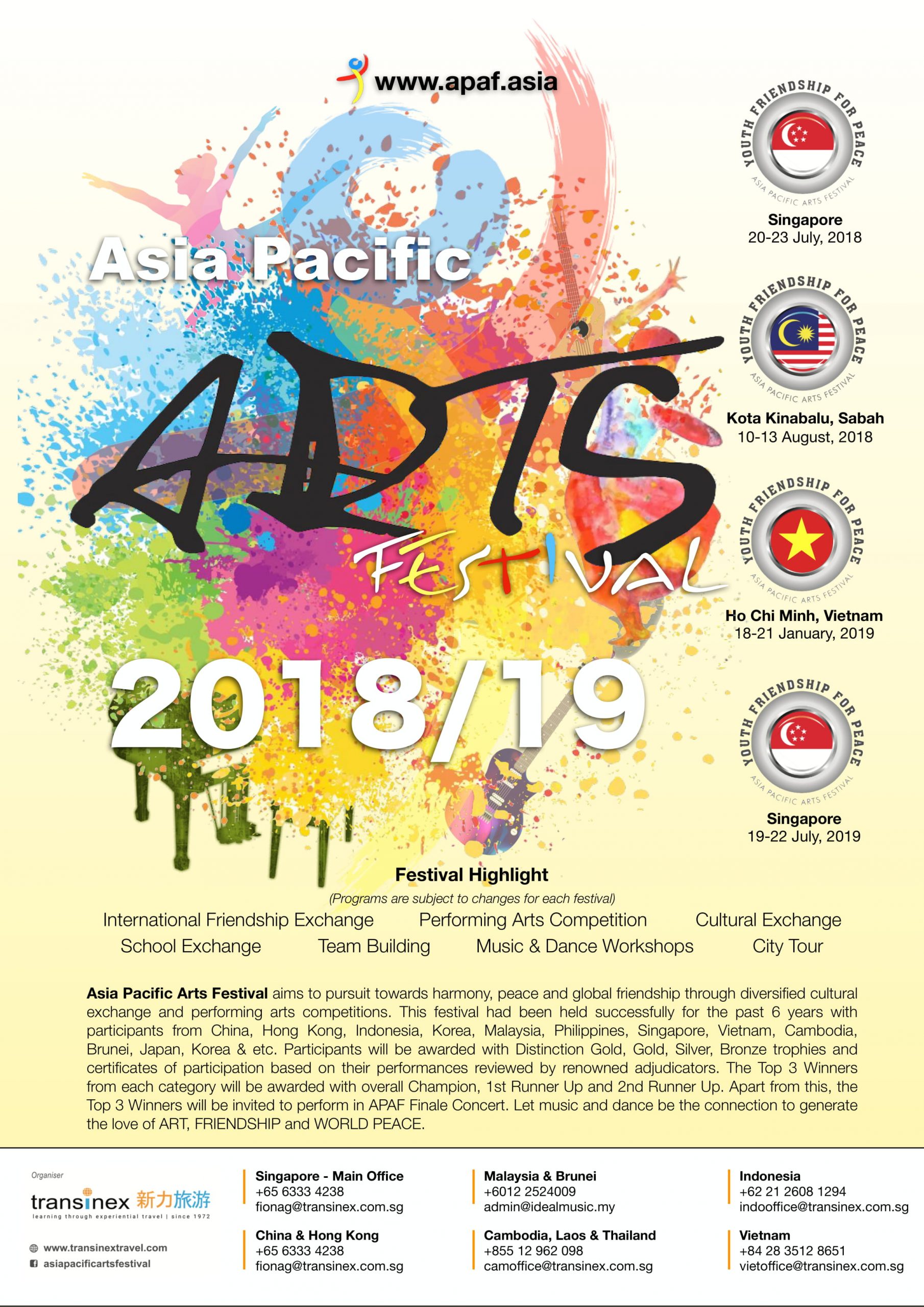 What is your event about?
Asia Pacific Arts Festival (APAF) aims to pursuit towards harmony, peace and global friendship through diversified cultural exchange and performing arts competitions. At the end of the event, participants will be awarded with Distinction Gold, Gold, Silver, Bronze trophies and certificates of participation based on their performances reviewed by renowned adjudicators. This 21 July 2019 and 22 July 2019, we will host APAF in Singapore at Resorts World Sentosa and Hwa Chong Cultural Centre Theatre respectively.
How much are the competition rates (Any genre of music/arts)?
Category Fees/Pax (RM) (RWS/HCCCT)
I. Solo (1 person) RM745.00/RM600.00
II. Duet (2 person) RM570.00/RM353.00
III. Trio/Quartet
(3-4 person) RM450.00/RM255.00
IV. Small Group
(5-12 person) RM373.00/RM215.00
V. Large Group
(13 person & above) RM315.00/RM177.00
Who is involved?
This festival had been held successfully for the past 6 years with participants from China, Hong Kong, Indonesia, Korea, Malaysia, Philippines, Singapore, Vietnam, Cambodia, Brunei, Japan, Korea & etc. There will also be renowned adjudicators from Singapore such as Dr Wong Susan, Mr Ian Goh and Wong Kit Yaw, Dr Ha from Vietnam etc.
Why should participants join our event?
We believe that this event provides a platform for participants to showcase their talent. There are also arts workshops for participants to mingle with like-minded art lovers. Participants can also sign up for our tour package from 20-23 July which includes City Tour, accommodation and meals.