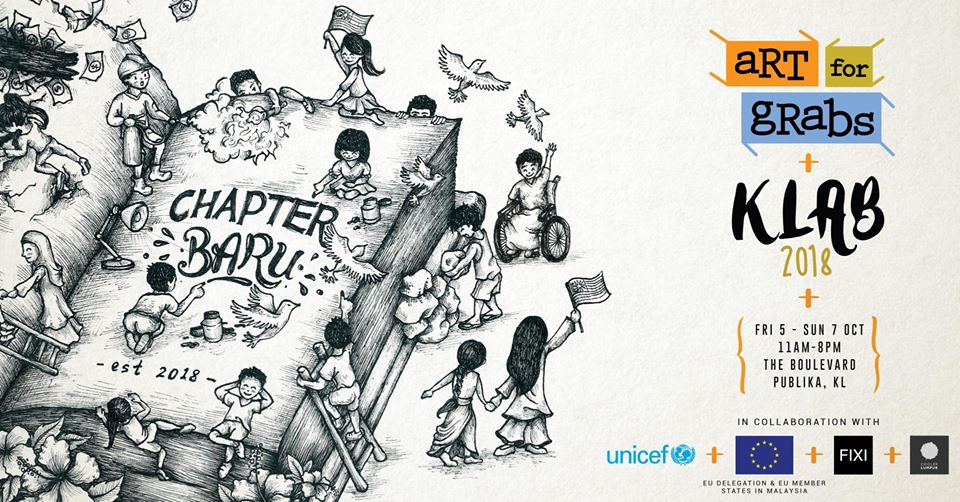 Art For Grabs + KL Alternative Bookfest 2018
Welcome to the chapter baru of Hikayat Rakyat.
Art For Grabs + KL Alternative Bookfest forms a pakatan once again with The Cooler Lumpur Festival to take over Publika Mall with 50 art & craft booths, 25 indie publishers, and NGO booths featuring bold youth and children advocates.
We are also proud to collaborate with UNICEF Malaysia, EU Delegation & EU Member States in Malaysia, Buku Fixi, and The Cooler Lumpur Festival to present book launches, movie screenings, panel discussions, youth manifestos, and powerful performances.
As we celebrate #MalaysiaBaru, we hope to inspire Malaysians to keep our spirit up for the long road ahead. Democracy is a work in progress and Malaysia must be renewed daily. Let's turn the page and keep writing.
(Artwork by Kahyan Lim)
SATURDAY
11am –
SHOULD KINDNESS BE LEGISLATED?
An exhibition debate by Malaysian Institute of Debate & Public Speaking (MIDP), Art For Grabs, and UNICEF Malaysia.
We teach kindness to our children. But are we really that kind? The daily reports of bullying, violence, and oppression, exerted on the basis of our differences such as race, religion, gender, nationality, age, and class, seem to say otherwise.
Kindness has indeed been a real challenge in our diverse society. While we may all have different definitions of kindness, some of us may be holding on to personal agendas, religious values and cultural norms that determine who is more deserving of kindness, and consequently, who is less.
Thus, if kindness is regarded as an absolute moral good, do you think that it would be ideal to mandate and regulate kindness? And how far should unkindness be punished in order to teach kindness?
In collaboration with UNICEF Malaysia, the Malaysian Institute for Debate and Public Speaking (MIDP) proudly presents a debate showcase featuring some of the best debaters in the world to discuss the topic "Should Kindness Be Legislated?" in conjunction with Art For Grabs + KL Alternative Bookfest 2018!
1pm –
LITTLE BASKET
Book Launch by Buku Fixi
LITTLE BASKET 2018 is the third and final volume of new Malaysian writing. It contains short stories, essays, comics and a photo-essay. Join the editors Lee Ee Leen, Ted Mahsun & several of the contributors.
2pm –
POSTCARDS FROM THE SOUTH
Book launch by Gerakbudaya Bookstore
The first railway line in Malaya was built in 1869 by the ambitious Maharaja Abu Bakar of Johor. Two decades later, the British built an extensive network to facilitate the transport of tin, and later rubber, to the ports.
This network remains in use today as a passenger line, stitching together three corners of the peninsula. Postcards from the South retraces the historic Southern Line, giving voice to the railway, the people and the places they call home.
A parallel narrative explores new perspectives on a century and a half of railway history and its role in nation-building, using previously unpublished photographs, documents and maps.
3pm
Poetically Correct
Spoken word performance by If Walls Could Talk – Poetry Open Mic
4pm –
WADJDA
Movie screening by Netherlands Embassy
(dir: Haifaa Al Mansourm, Saudi Arabia, 2012)
Directed by the first female filmmaker in Saudi Arabia and winner of 22 international festival awards, WADJDA is the story of an entrepreneurial 10-year-old girl living in Riyadh.
After a fight with her friend Abdullah, Wadjda sees a beautiful green bicycle for sale. She wants the bicycle desperately so that she can beat Abdullah in a race.
But Wadjda's mother fears repercussions from a society that sees bicycles as dangerous to a girl's virtue. So Wadjda decides to try and raise the money herself.
Just as she is losing hope of raising enough money, she hears of a cash prize for a Quran recitation competition at her school. She devotes herself…
Trailer: https://www.youtube.com/watch?v=3koigluYOH0
5.30pm –
CHILD MARRIAGE: HAPPILY NEVER AFTER
Forum by Bar Council Child Rights Committee
While we talk about banning child marriage, we need to also talk about coming up with real solutions for girls and families.
Education for parents and children is paramount in create awareness about the repercussions of child marriages.
There must also be solutions for teen pregnancies, for babies and their teen moms. Otherwise pregnant girls drop out of school, and find they don't have access to adequate healthcare.
This panel will discuss how we can be more proactive about protecting girls, not only by banning child marriage, but also by educating them.
7pm –
THE FIGHT FOR HAPPINESS
Forum by Relate Malaysia
Exposure to discrimination is strongly associated with adverse mental health, which perpetuates the cycle of inequality and prejudice.
Mental illness stigma further sets up barriers against accessible treatment, reduces help-seeking behaviours, and hinders the recovery process through self-stigma.
Learn how mental health practitioners and local communities can work together to create environments that are accepting of differences and disabilities.
This panel will discuss ways to empower individuals with mental illness to have a sense of mastery and self-efficacy, to lead meaningful lives, and advocate for their own health.
————-
SUNDAY
12pm –
UNAPOLOGETIC by Boo Su-Lyn
Book launch by Gerakbudaya Bookstore
'Unapologetic' outlines Boo Su-Lyn's plans if she were Prime Minister and contains several new essays, besides her columns at Malay Mail on various issues from sex and marriage to race, religion and democracy.
As a journalist and columnist, Boo also shares her dreams on a new kind of politics, where political parties dare to make a stand on tough issues and where citizens constantly hold their elected representatives accountable on matters important to them.
Boo Su-Lyn is an assistant news editor and columnist with Malay Mail and a co-founder of BEBAS, a movement of young people that advocates for equality, secularism, and an end to discrimination.
1pm –
IS MALAYSIA BARU SAFE FOR GIRLS & WOMEN?
Forum by The G-Blog, Art For Grabs, and UNICEF Malaysia
This forum aims to discuss our collective responsibility in creating a culture that is not only safe, but also empowering for women and girls to thrive in.
From participation of women in male dominated fields all the way to sexual harassment and grooming of girls, we also seek to discuss the various actions that we can take to do away with traditional gender norms and and create a space where women and girls can achieve things that society has never thought they could achieve!
1) Maria Chin Abdullah, MP for Petaling Jaya
2) Sumitra Visvanathan (WAO)
3) Ustaz Wan Ji Wan Hussin
4) Chang Mei Yen (Young Women Making Change)
5) Jean Vaneisha (Challenger)
Moderator: Emellia Shariff (The G-Blog)
3pm –
THE POLITICS OF BEING GLAMOURISED
Forum by Queer Lapis
"Keep your lifestyle PRIVATE! Do not GLAMOURISE!" we are told. But what does this even mean?
Telling marginalised communities such as LGBT people to "stay private" only reinforces our fear of speaking up. This is further justified by the refrain that 'we should not rock the boat'.
In this session, we look at the impact of invisibility and visibility on oppressed people and our rights. Let us discuss whether keeping quiet can really protect marginalised groups or anyone for that matter.
6pm –
AUTISM ACTIVISM
Forum by EU Delegation in Malaysia
7pm –
I'M NOT THE ONLY ONE
Manifestos by Youths Who Refuse to be Left Behind
By Art For Grabs and UNICEF Malaysia
UNICEF works to put the most excluded, most vulnerable and hardest-to-reach children and young people first to ensure no one is left behind.
Often development goals are rolled out for the easiest to reach population while those already marginalised become left further behind.
In this Manifesto session, we are placing the spotlight on eight visionary, articulate youths who know first hand what it means to be left further behind, and are refusing to accept it.
These representatives aged between 20 to 25 are youth with disability, indigenous youths, East Malaysian youths, urban poor youths, queer youths, refugee youths, undocumented Malaysian youths, and youths in correctional facilities.
If we truly wish to build a more inclusive Malaysia, we need to begin by listening to them.
Featuring
Celine Lean, 17, visually disabled youth
Fatein Ismatulain, 19, orang asli youth
Hani Mahdi, 24, East Malaysian youth
Hasan Al-Akraa, 18, Syrian refugee youth
Kyle Iman, 24, youth in prison
Velan, 23, urban poor youth
Veshalini Naidu, 20, queer youth
Wong Kukui, 23, stateless youth
MC: Melizarani T. Selva
Officiated by Dato' Ambiga Sreenevasan
————-
Art For Grabs + KL Alternative Bookfest 2018 is presented in collaboration with UNICEF Malaysia, EU Delegation, Buku Fixi and The Cooler Lumpur Festival. Venue is sponsored by Publika.
Event Dates
Venue
Website