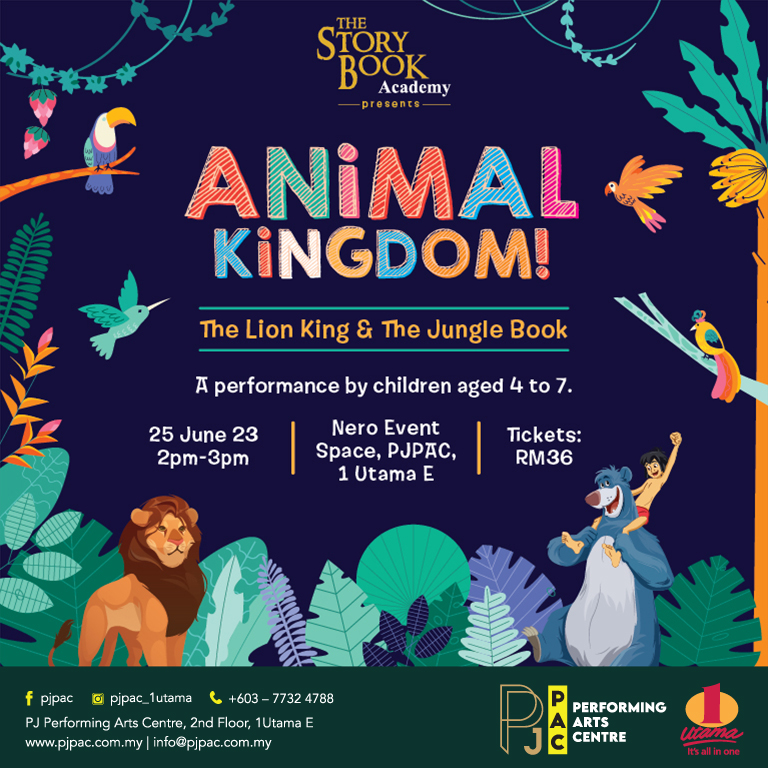 Welcome to 'Animal Kingdom', a play that brings together two of the most beloved stories of all time: The Lion King and The Jungle Book. In this play, first you will see how Simba, the young lion prince, face the challenges of growing up. And then join the adventures of Mowgli, the man-cub raised by wolves, before he was reunited with human folk. You will also meet their friends and foes, such as Nala, Timon, Pumbaa and Scar from The Lion King, as well as Baloo, Bagheera and Shere Khan from The Jungle Book.
This play is performed entirely by children aged 4 to 7 from THE STORY BOOK Academy, who have worked hard to bring these characters to life. They are ready to show you their talent and creativity in this delightful play. Please come and give them your full support as these young actors take you on a thrilling ride through 'Animal Kingdom!'.
Cast & Creative Info
Presented and produced by THE STORY BOOK Academy.
Cast of The Lion King: Chong Zen as Simba, Sharrvind as Mufasa and Timon, Nael as Scar, Ji Lian as Pumbaa, Carlson as Rafiki, Ambrose as Zazu, Viktor and Aiden as hyenas Shenzi and Banzai, Dviithii as Nala and Sarabi. Story narrated by Teo Kgia Loong.
Cast of The Jungle Book: Rishaan as Mowgli, Maruti as Baloo the bear, Aryann as Bagheera the panther, Boon Keat as Shere Khan the tiger, Ryhanna as Raksha the wolf and village girl, Caleb as Kaa the snake, Adam as Colonel Haithi the elephant and King Louie the monkey, Aqeel as Haithi Jnr and monkey and Hillary as elephant, monkey and village girl. Story narrated by Teo Kgia Loong.
Advisory Info
Children above age 3 are subject to the same ticket pricing.
Theatre doors will be closed at 2pm sharp.
Tickets are sold by Onetix and cannot be refunded, exchanged or cancelled once issued except event cancellation or postponement.