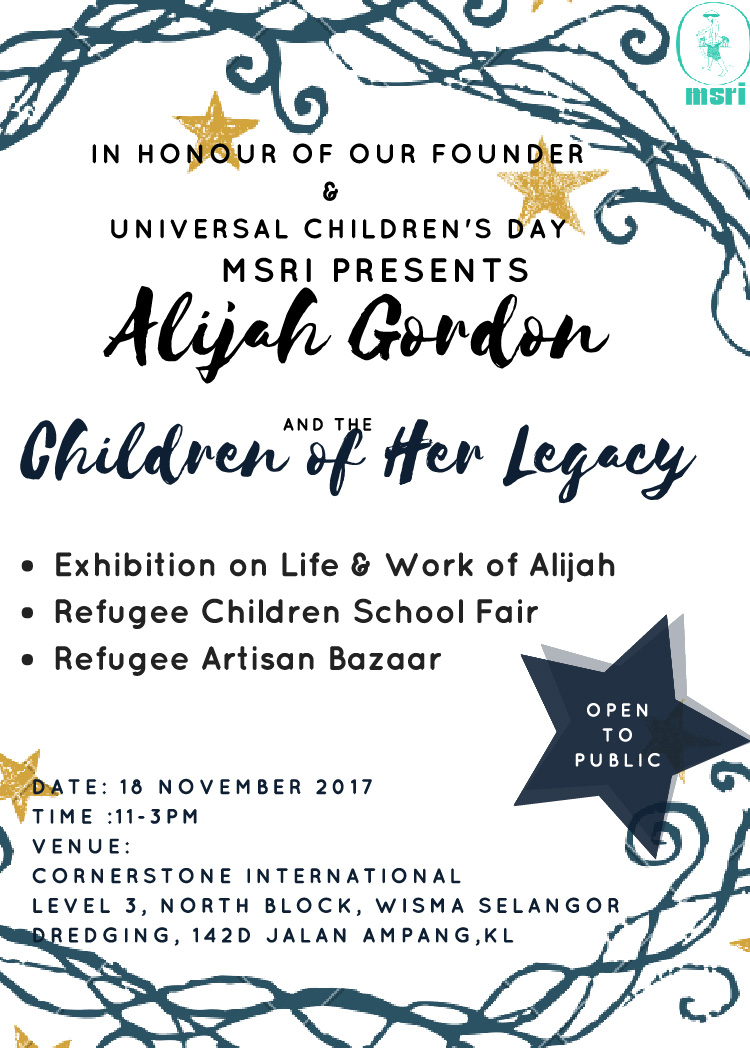 Alijah Gordon & Children of Her Legacy
by
Malaysian Social Research Institute (MSRI)
(OPEN TO PUBLIC)
To commemorate the much-anticipated Universal Children's Day that is fast approaching. We also wish to pay tribute to our late founderof MSRI, Dato' Dr. Alijah Gordon who passed away on the same date (in 2003). Therefore, we would be very grateful if you could promote our event in your online event listings site. We have kindly attached the event flyer for your kind attention.
ACTIVITIES
EXHIBITION ON LIFE & WORKOF ALIJAH
REFUGEE CHILDREN SCHOOL FAIR
REFUGEE ARTISAN BAZAAR
MSRI HISTORY
Formerly known as Malaysian Sociological Research Institute, Malaysian Social Research Institute (MSRI) was inaugurated on 27 November 1959. The organisation was founded and chaired by the late Dato' Dr. Alijah (Shirle) Gordon – an American student studying Middle Eastern and Islamic Studies at Columbia University. As a student, Dato'Dr. Alijah was active in the political scene. Prior to her move to Malaya in 1957, the feisty student at that time participated in a televised debate with Abba Eban, the future Foreign Minister of Israel about the fate of the Palestinians and the military aggression of Israel and its Zionist elite. The debate resulted in Dato' Dr. Elijah's scholarship loss. However, she succeeded in securing a scholarship from the Egyptian government.
MSRI PURPOSE
The purpose of the institute at that time was to produce and publish world-class academic scholarships. The people involved with MSRI then – Pendita Za'aba, Dr. Ishak Muhammad (Pak Sako) to name but a few – were at the forefront of progressive Malaysian writing, and MSRI's journal Intisari was one of the first research journals dedicated to the idea of "leaving the walled-in and secure yesterday to analyse today and the forces that mould our society", published for an educated general readership. Many in Malaya back then felt that Islam has had a pervasive influence, but little or nothing has been published on the subject. Pendita Za'aba was the first Chairman of this research group that literally survived on its members' own pocket money and what little funds they managed to solicit from the public to support the work. Since its inception, MSRI has been responsible for publishing research work of intellectuals. All the books published by MSRI, as part of our moral obligations, were donated to secondary schools all over Malaysia.