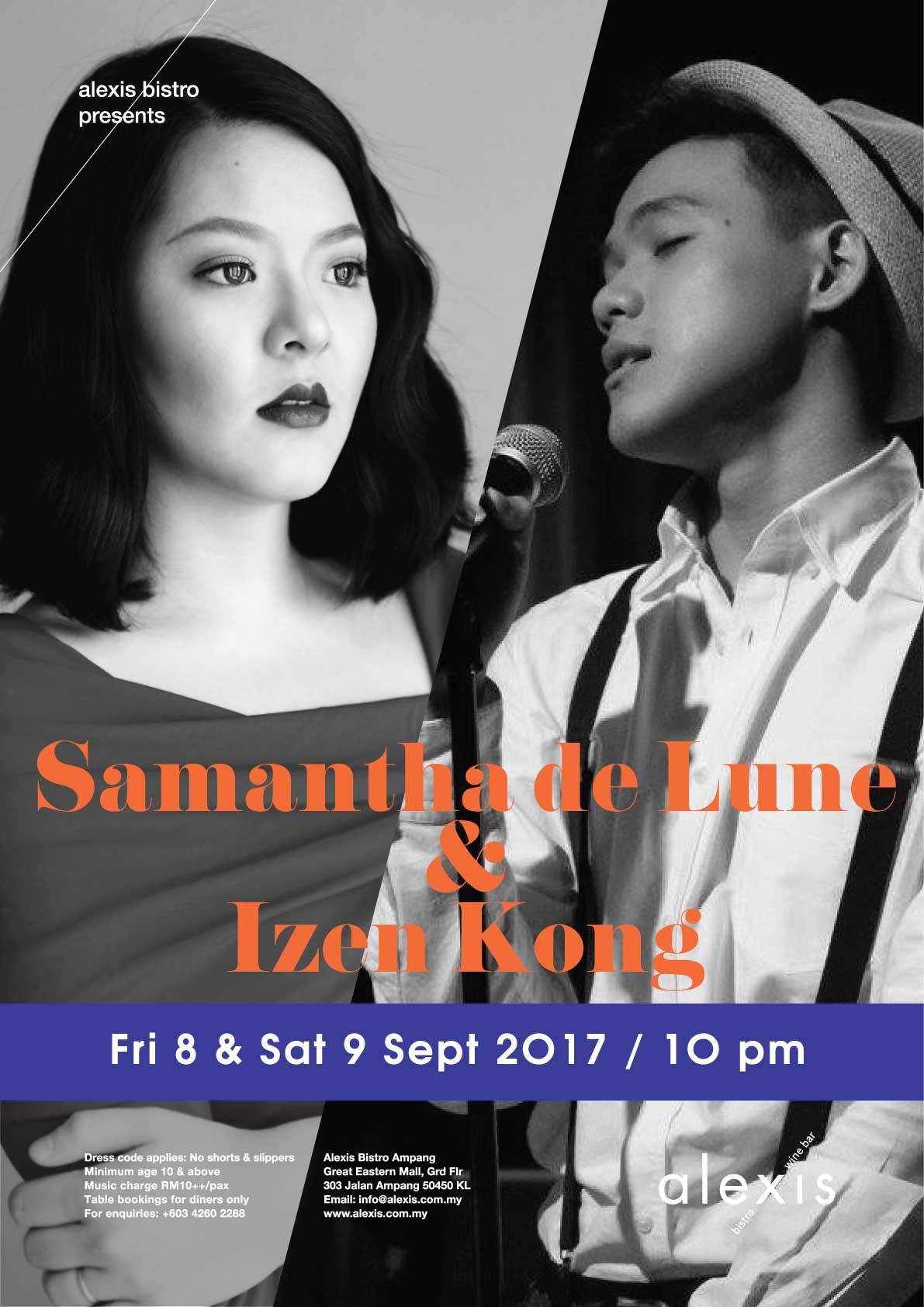 Alexis Bistro
presents
Samantha de Lune & Izen Kong
Fri 8 & Sat 9 Sept 2017
Having been alluded to have "a voice of an extremely rare earthy quality" accompanied by a flare for storytelling through song, Samantha de Lune's striking confidence and poise is evidently far beyond her years. Armed with the motto "I sing because words are not enough", de Lune's extensive portfolio ranges across public appearances, private and corporate events, radio and TV commercials, short films and more.
Kong Jie Wei (Izen) started singing at age six. A Grade 8 Piano and Advanced Certificate (AC) Trinity voice graduate, Izen also received Trinity's "Outstanding Award for Advanced Certificate". In October 2016, he took 3rd place in the SLO-ASEAN Vocal Competition. Izen's extensive qualifications and portfolio include leading and featured musical roles, as well as being a contestant in a prestigious voice competition to be announced soon.
Fresh off their joint DFP debut with the Malaysian Philharmonic Orchestra this past June, the dynamic duo brings to the Alexis stage for one weekend only all your favourite Broadway, West End and evergreen jazz standards.
Dress code applies: No Shorts & Slippers.
Showtime 10pm. Table bookings for diners only.
Minimum age 10 & above.
Music charge: RM10++/pax
For more information, please call 03 4260-2288
or log on to www.alexis.com.my
Alexis Bistro Ampang
Great Eastern Mall
303 Jalan Ampang, Kuala Lumpur