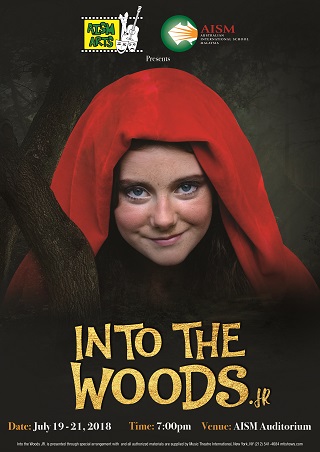 The Australian International School Malaysia (AISM) presents Into The Woods, a musical by American composer Stephen Sondheim.
Performed by the school's Middle & Senior School students, the musical tells the story of a childless baker and his wife who goes on a quest to begin a family, and how they interact with a witch who places a curse on them, and other loved fairytale characters including Cinderella, Jack and the Beanstalk, Rapunzel and Little Red Riding Hood during their journey.
The musical features costume design and make up by the school's very own Year 11 student, Kai Morley. Kai, with designing experience in Australia, Hong Kong and Malaysia, even has her own label, Kai Kavan which she hopes to further develop when she completes her education.
Event details:
Date : Thursday, 19 July to Saturday, 21 July
Time : 7.00pm (light refreshments available at 6.30 pm)
Venue : Auditorium, Australian International School Malaysia
Ticket Prices :RM30 per entry
RM100 (Family of four with 2 adults, 2 children)
RM 10 per entry (for School groups. Only on Thursday and Friday, 1.30pm)
For more information, log on to www.aism.edu.my/into-the-woods or contact 03-8949 5000 / [email protected] . Reserve your tickets today!
Booking & Payment
Payment can be made to the following account:
Alliance Bank
Payee Name: Australian International School Sdn Bhd
Account No: 12136-0-01-000600-4
Please send your payment receipt to [email protected] with your name, contact number and your preferred date.