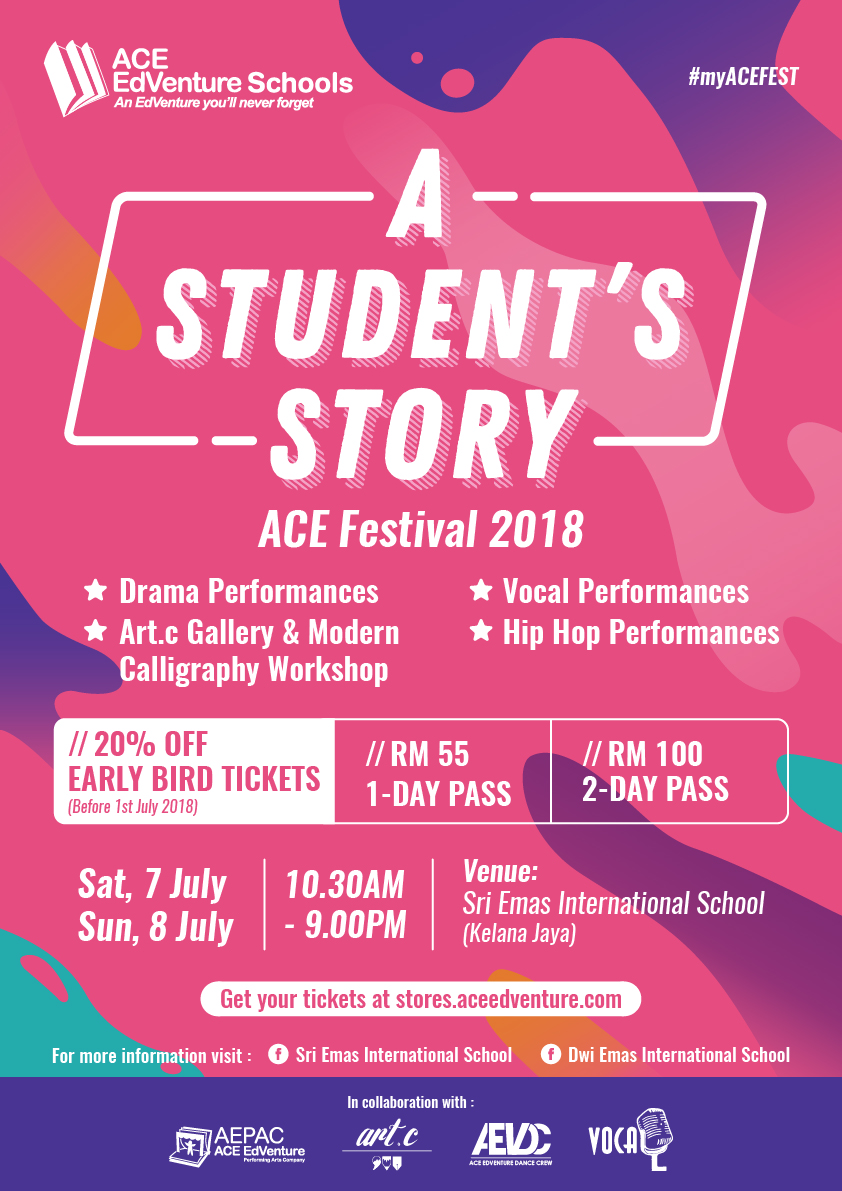 Childhood and adolescence – A time where it not only shapes who you are but also a time where we experience some of the greatest moments in life. Whether ups or downs, those are the stories that we embrace as a part of us no matter where we are in life. This year, ACE EdVenture proudly presents ACE Festival 2018 – A Student's Story where we shine the spotlight on our young individuals as they express their unique stories in their own creative way. So, gather your family and friends and help yourselves with some snacks along the way, and witness a performance of a lifetime.
Ticket price: RM55 (1 day pass), RM100 (2 days pass)
Promotion: 20% off for early bird tickets (Valid until 30th June 2018)
Date: 7th July (Saturday) – 8th July 2018 (Sunday)
Time: 10:30 AM – 9:00PM
To purchase tickets via cash/walk in, contact:
Ermy – Sri Emas : 019-3844654
Sue Ann – Dwi Emas : 019-2236513
FAQ:
Q: Will I be able to get any food and drinks on that day?
A: Yes, there will be food and drinks vendors. So binge away!
Q: What sort of performances will I be expecting?
A: Drama, vocal, hip hop, a showcase of the Art.c gallery and even a Modern Calligraphy Workshop
ACE Festival 2018 Performance Schedule:
Art.c Gallery
Venue: Foyer in front of teacher's room
Sessions (Saturday & Sunday): 10:30am – 7:00pm
Curious Cubes
Venue: 10 Aurum, 7 Gold, AR 1, X Voski, 7 Mas Classroom
Sessions (Saturday & Sunday): 10:30am – 7:00pm
Modern Calligraphy Workshop
Venue: Activity Room 8
Sessions (Saturday & Sunday): 11:00am – 11:45am, 1:00pm – 1:45pm, 3:00pm – 3:45pm
Drama Performance
Venue: Multipurpose Hall
Season 1 (Saturday): 11:00am – 12:30pm (Performance 1), 7:00pm – 8:30pm (Performance 2)
Season 2 (Sunday): 11:00am – 12:30pm (Performance 1), 7:00pm – 8:30pm (Performance 2)
Vocal Performance
Venue: Multipurpose Hall
Session (Saturday): 2:00pm – 3:30pm (Performance 1)
Session (Sunday): 9:00pm – 10:30pm (Performance 2)
Hip Hop Performance
Venue: Multipurpose Hall
Session (Saturday): 4:00pm – 5:00pm (Performance 1), 9:00pm – 10:00pm (Performance 2)
Session (Sunday): 4:00pm – 5:00pm (Performance 3)