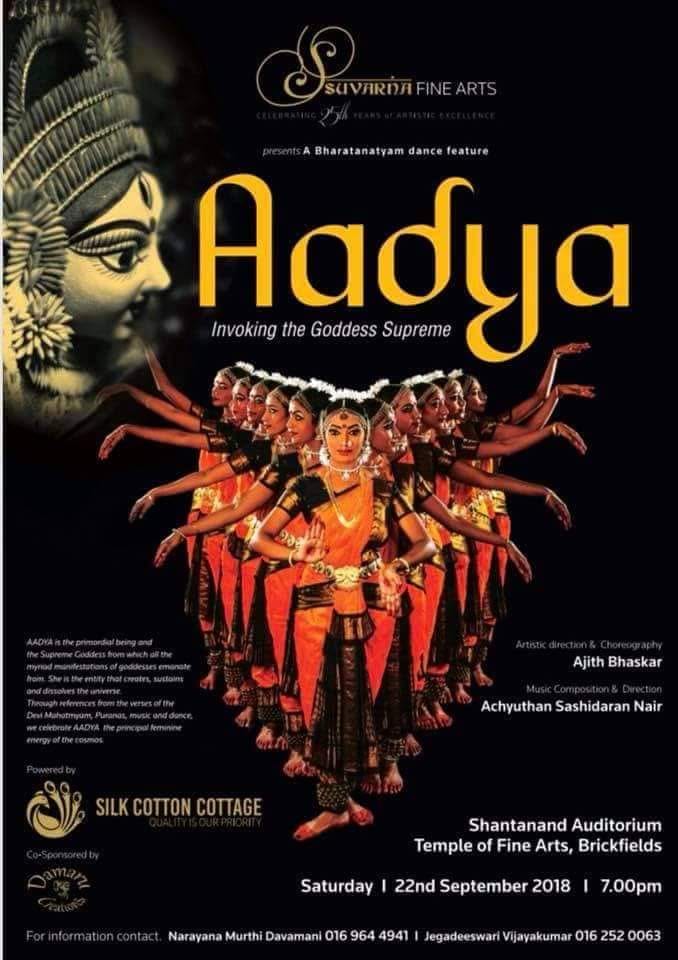 AADYA- Invoking The Goddess Supreme –
Celebrating 25 years of artistic excellence,
Suvarna Fine Arts
presents
A Bharatanatyam dance feature
AADYA
Invoking the Goddess Supreme
AADYA is the primordial being and the Supreme Goddess from which all the myriad manifestations of goddesses emanate from.
She is the entity that creates,sustains and dissolves the universe.
Through references from the verses of the Devi Mahatmyam ,Puranas,music and dance, we celebrate AADYA the principal feminine energy of the cosmos.
Artistic direction & Choreography: Ajith Bhaskar
Music Composition & Direction: Achyuthan Sashidaran Nair
Powered by
Silk Cotton Cottage
Co-sponsored by
Damaru Creations
For information contact:
Narayana Murthi Davamani – 016 9644941 / Jegadeeswari Vijayakumar – 016 2520063
Event Dates
Venue
Website
Tickets Link