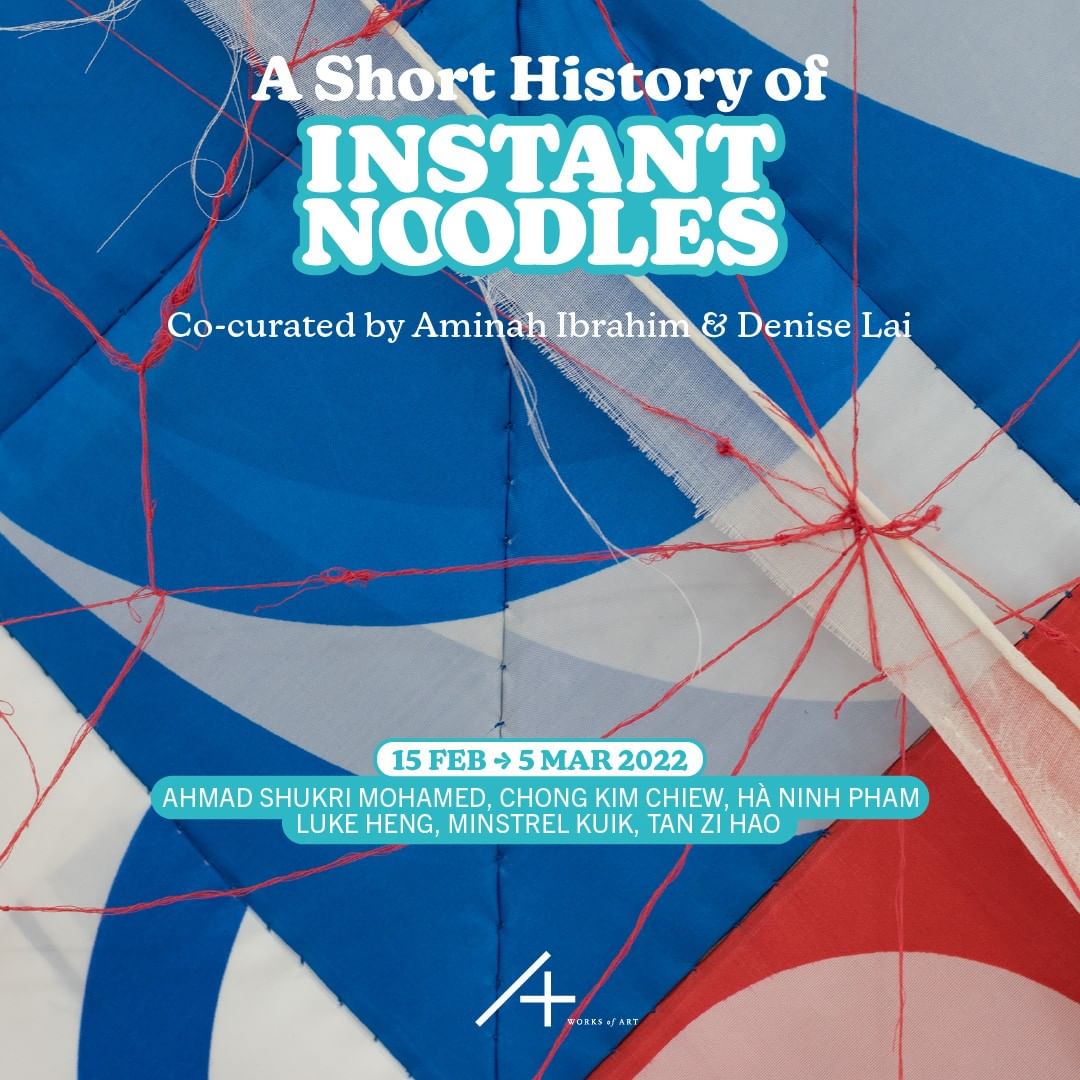 A+ WORKS of ART is pleased to present "A Short History of Instant Noodles"
A group exhibition featuring works by Ahmad Shukri Mohamed (@ahmad_shukri_mohamed), Chong Kim Chiew (@chongkimchiew), Hà Ninh Pham (@haninhpham), Luke Heng (@lukehengjw), Minstrel Kuik (@practise_merdeka), and Tan Zi Hao (@tanzihao89). Curated by Aminah Ibrahim (@aminahibrahim) and Denise Lai (@e.colai_)
A quick search on the internet (aka instant knowledge) provides these facts: Noodles, the non-instant kind, have a very long history, and there's evidence that they may have originated in ancient China. But it was not too long ago, in 1958, that instant noodles were invented by Momofuku Ando of Nissin Foods in Japan. Later, in 1971, Nissin introduced their now-famous and ubiquitous Cup Noodles. Today, there are countless instant noodle brands and varieties; they can be found everywhere, with over 100-billion servings consumed worldwide each year.
Like many an art gallery during this pandemic, we at A+ WORKS of ART found ourselves in a situation where we had a sudden change in the gallery schedule, and had to put together an exhibition quickly. To make instant noodles, you open the plastic packaging and dump the contents into boiling water; cooking only takes a few minutes. The simplicity belies the fact that a copious amount of design, complexity and research has gone into the manufacturing of the ingredients — to achieve the stringy and chewy texture of the noodles as well as the optimally engineered combination of salty or spicy notes in the flavour packet.
Moreover, while instant noodles are often eaten on their own, on other occasions people add an egg, vegetables, or an endless multitude of other ingredients. This exhibition may have come together quickly, but it's only possible because of developed relationships with artists, continual curatorial research and thinking.
Hopefully, however, unlike instant noodles, this exhibition won't just be empty calories.