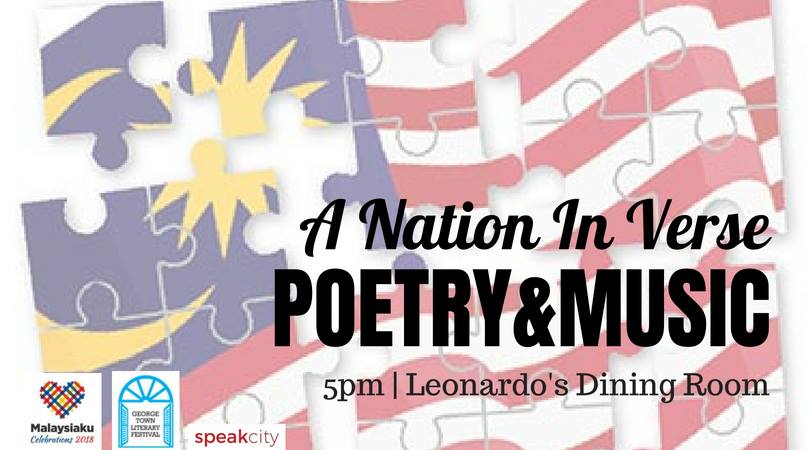 A Nation In Verse – Poetry & Music.
George Town Literary Festival 2018 and If Walls Could Talk – Poetry Open Mic present:
an eclectic lineup of home-grown Malaysian poets and storytellers. Listen as they navigate through these puzzling times of our 55 year old country.
Featuring poems:
Ruoh Peng Chiew, Lily Jamaludin, Dhinesha Karthigesu, Tshiung Han See, Nana, Jack Kin Lim, Joyce Fong, Afi Noor, Puteri Yasmin Suraya and Katrina Jorene Maliamauv
Plus a musical performance by Brian Gomez.
Hosted by: Melizarani T.Selva
Admission is FREE.
All thanks fo the folks of Malaysiaku and The Bangkung Row
See the full program here: Malaysiaku Celebrations 2018
***
Chiew Ruoh Peng has been writing poetry and performing in Mandarin for the past 20 years.
Katrina Jorene Maliamauv is an activist, a writer, and a believer in breathing better worlds into existence.
Dhinesha takes stories and turns them into poetry
Lily Jamaludin is a writer, poet, researcher, and former student of the KL Writer's Workshop.
Nana's anger and rage come from a place of love.
Puteri Yasmin Suraya is a Creative Writing graduate from the University of Nottingham Malaysia and is currently working in online media writing.
Joyce Fong is a student writer from Sabah who is currently completing a degree in English Language and Literature at the University of Nottingham Malaysia.
Lim Jack Kin is an amateur poet, freelance writer, and final year creative writing major at the University of Nottingham
Event Dates
Venue
Website