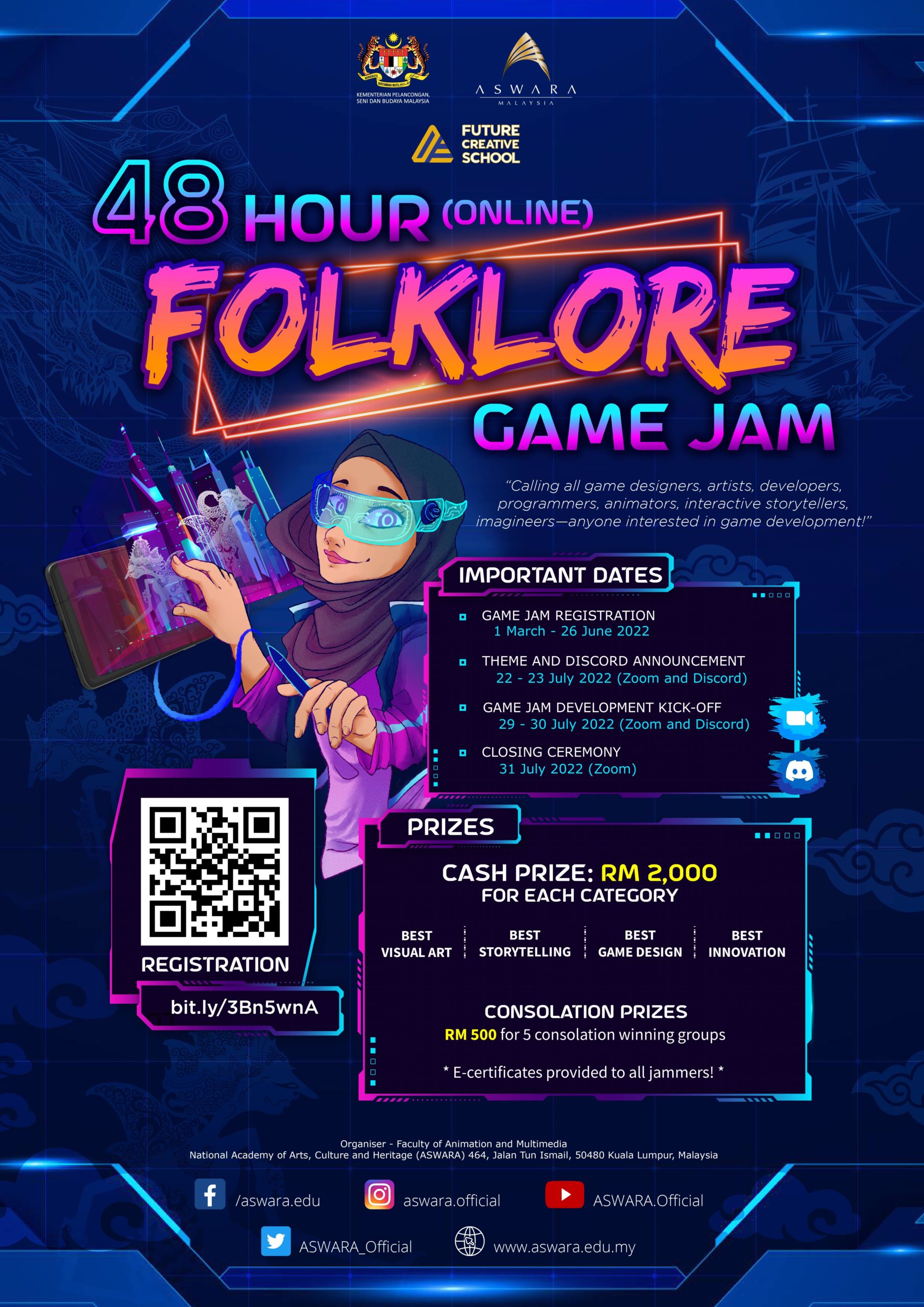 Are you a designer, artist, or developer and programmer of digital games? 🎮🎭🕹️ Faculty of Animation and Multimedia, ASWARA invites all individuals interested in digital game development to participate in 48 Hour Folklore (Online) Game Jam 2022. If this is your first time joining a game jam, don't worry! Our 48 Hour Folklore Game Jam is definitely beginner-friendly — yet stand a chance to win our cash prizes for :
🏆  Folklore Game Jam Choice Awards (RM 2,000)  🏆

Best Visual Art
Best Storytelling
Best Game Design
Best Innovation

🥉  Consolation Prizes (RM 500)  🥉

For five (5) winning teams!
The theme for the game jam is appreciation in folklore and cultural heritage where participants in various fields of interactive media arts such as digital games, animation and even interactive technology come together in making exciting digital games in line with the set theme.
The programme is free and open to public where each participant will be involved according to their respective fields in the development of digital games in groups. Participation is limited to 20 groups (4 – 5 participants per group) throughout this online programme.
(For solo registrations, individual applications will be screened and curated for group designation.)
Disclaimer : The exact duration of this programme is 5 days as stated in Show Times. Full participation is required to be eligible for the e-certificate.

__________________________________
IMPORTANT DATES
REGISTRATION
📅 Date of Registration: 1 March 2022 – 26 June 2022
📍 Register as a game jam participant at bit.ly/3Bn5wnA
THEME ANNOUNCEMENTS, DISCORD LINKS, AND ICEBREAKING SESSIONS *
📅 22 July 2022 – 23 July 2022
📍 Zoom and Discord
🎫 All applications (registration) of participants who have been successfully screened will be contacted via email no later than 30 June 2022
GAME JAM *
📅 29 July 2022 – 30 July 2022
📍 Zoom and Discord
🎫 Digital game development sessions in groups
CLOSING CEREMONY AND WINNER ANNOUNCEMENT *
📅 31 July 2022
📍 Zoom
* For more information, please refer to the Frequently Asked Questions (FAQ) at https://bit.ly/3K7oWQM
__________________________________
Presented by
Faculty of Animation and Multimedia | Future Creative School
National Academy of Arts, Culture and Heritage (ASWARA) | Kuala Lumpur, Malaysia
Event Dates
Show Times
Venue
Website
For Enquiries