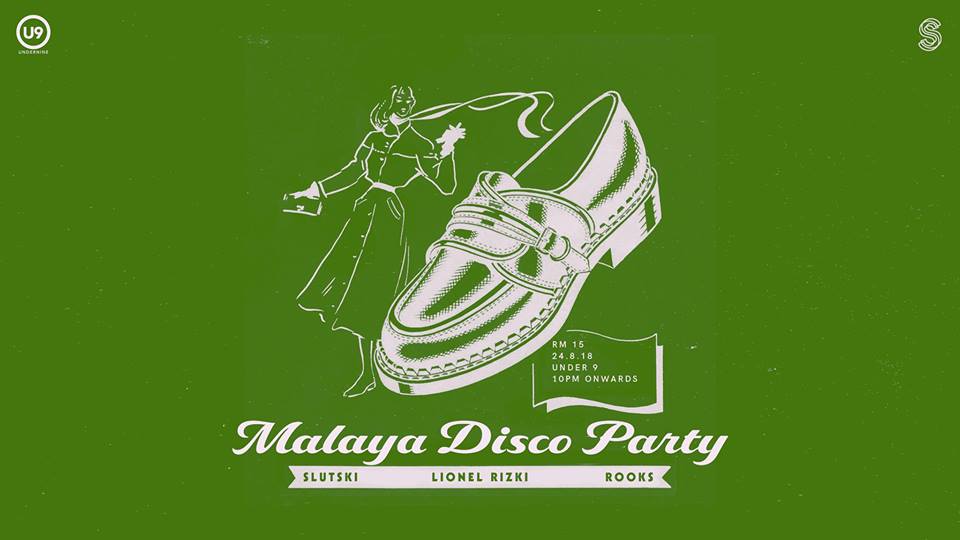 Malaya Disco Party w/ Lionel Rizki, Rooks and Slutski
Entry is RM15 all night
LIONEL RIZKI
Disco | Citypop | Future Funk | House
Lionel Rizki has always been immersed into the local music scene, starting out as a roadie, a music photographer, a VJ and now a DJ! As a selector, his favoured sound is a range of disco and electronic sounds with groovy beats, horns and synths from the late 70s that's guaranteed to get the dance floor down to boogie.
As a Japanophile , audiences are often treated to the odd city pop single, Shibuya kei track and event themes from recent Nippon productions. Expect Indonesian disco to be included into his selections inspired by his recent rediscovery of his hometown.
He is also the head of Marketing and PR for SaturdaySelects, a collective, platform and record label that consists of creatives & musicians from around the world and a member of Public School, focusing on leftfield music which are deemed unacceptable to be played at clubs.
https://soundcloud.com/lionelrizki
SLUTSKI
Disco | House
Unconfined by genre, Slutski's DJ sets feature a broad spectrum of styles. From the deepest bass and beats of house and techno through to red hot funk and disco via sophisticated indie electronica, his selections are laden with rich musicality. Having DJed for over a decade, he is equally skilled at laying down energetic rhythms for sweaty dancefloors as well as setting the right mood for more relaxed occasions.
A regular feature in Kuala Lumpur's burgeoning house and techno scene, his sensitivity, forward-thinking versatility and ability to entertain even while introducing new sounds to an audience has led to him being tasked with supporting some of the most respected and exciting names on the international circuit such as Hunee, FKJ, Horse Meat Disco, CHVRCHES, Aera, Baikal, Phon.o, Ninetoes, Bodhi, Trus'me, Ed Davenport and Bill Brewster.
Besides performing at events organised by the purveyors of quality dance music in KL, including Ohrwurm, The Sweatbox, Dictatorship, Kyo, Pisco Bar, Under9 and Jiro, he has also run a more intimate night called 'The Hook'. The Hook played a role in helping to reintroduce the sound of disco and house that had been missing from the city, becoming part of the rejuvenated KL dance music scene over the past five years.
Most recently, Slutski began collaborating with fellow disco lovers, Lawrence and Loveseat to form the 'Klang Valley Disco Edits' project with the intention of repurposing Malay classics for the modern dancefloor. They have started releasing via the homegrown Love International label.
https://www.mixcloud.com/slutski/
ROOKS
Rooks is a generally just another music geezer. always dabbling, exploring and discovering in all different kinds of music, he somehow found his calling in bouncy yet soulful music. As a DJ, Rooks has played a variety of venues, and has had the opportunity to share the stage alongside a slew of ocal and international acts, such as; DIDI HAN, MAXIMUS MCC, NICO ADOMANKO, THE WHOOLIGAN, JOE KAY, ESTA, ANDRE POWER, CASPA, SLUGA BED, CRAZE, DANGERDISKO, NAUFAL & ISKY, NAZKIMO, CEE, ROBOTRON5000 and a whole bunch of others too.
When it comes to styles, Rooks doesn't set limits. whether it be uptempo, mellowed out beats, bouncy grooves or anything in between, you'll know; he'll only be pushing vibes.
https://soundcloud.com/saturdayselects/the-weekly-fix-011-rooks
– Strictly 21 years old and above only (no ID, no entry)
– No bags (except for ladies handbags) are permitted in Under9
– NO GUESTLISTS , NO DRESS CODE , NO VIPS
Event Dates
Venue
Website