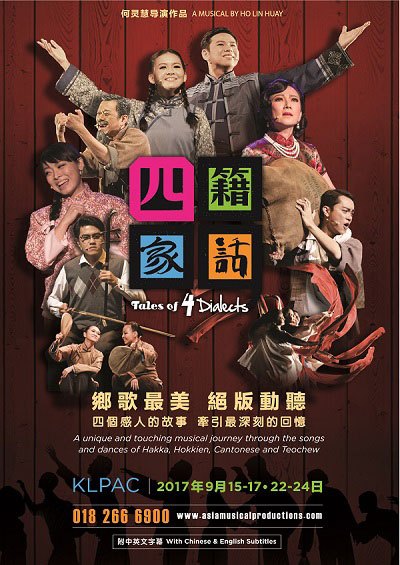 "Tales of 4 Dialects" is a unique musical journey through the sounds of our origins. The Hakka, Hokkien, Cantonese and Teochew songs featured in the musical were given a new life with a contemporary arrangement. These beautiful melodies and lyrics, together with the heart-warming stories, give us a chance to appreciate our dialects in a very different yet refreshing way.
《四籍家話》裡面的客家、福建、廣東及潮州歌曲經過重新編曲是那麼的動聽,加上四個感人的故事,讓我們重新欣賞到我們的"家話"的美。《四籍家話》的概念及創作是因為導演何靈慧對父母的感念及承諾而誕生,這個音樂劇於2015年的首演帶給台前幕後工作人員以及觀眾很多的感動和體悟:不管世界如何不一樣了,社會多進步了,有些人、有些事、有些東西、有些傳統永遠不能遺忘。
Presented by : AMP Asia Musical Productions
Director: Ho Lin Huay
Music Director & Arranger : Yuan Leow Yunn
Choreographers: Kenzo De Tuan
Guest Choreographer: Shirene Chan
Cast: Lee Elaine, Alana Sim, Edward Blue, Liow Jun Yi, Jazz Law, Wong Chin Chia, Vincent Tan, Jeffery Chew, Sam Chin, Timmy Ong, Teoh Siew Thung, Brian Chua, Danson Sim, Ping Khoo & others.
Date & Time:
15th – 24th September 2017
■ Matinees Show 3pm
17th (Sun) / 24th (Sun) September 2017
■ Evening Show 8.00pm / 8.30pm
15 (Fri) 8.30pm / 16 (Sat) 8.30pm / 22 (Fri) 8.00pm / 23 (Sat) 8.30pm September 2017
Venue: Pentas 1, klpac
Tickets:
VVIP : RM323
VIP : RM253
Category 1: RM183
Category 2: RM153
Category 3: RM123
Category 4: RM 83
Ticket sales launching date: 15th July 2017
Ticket Promotions:
20 % off: Tales of 4 Dialects Combo (4 tickets per set) (11th August 2017 onwards) (for all outlets and online)
VVIP : RM 323RM259/ ticket
VIP : RM253RM203/ ticket
Category 1: RM183 RM147/ ticket
Category 1 : RM153 RM123/ ticket
Category 2 : RM123RM99/ ticket
Category 4 : RM83 RM67/ ticket