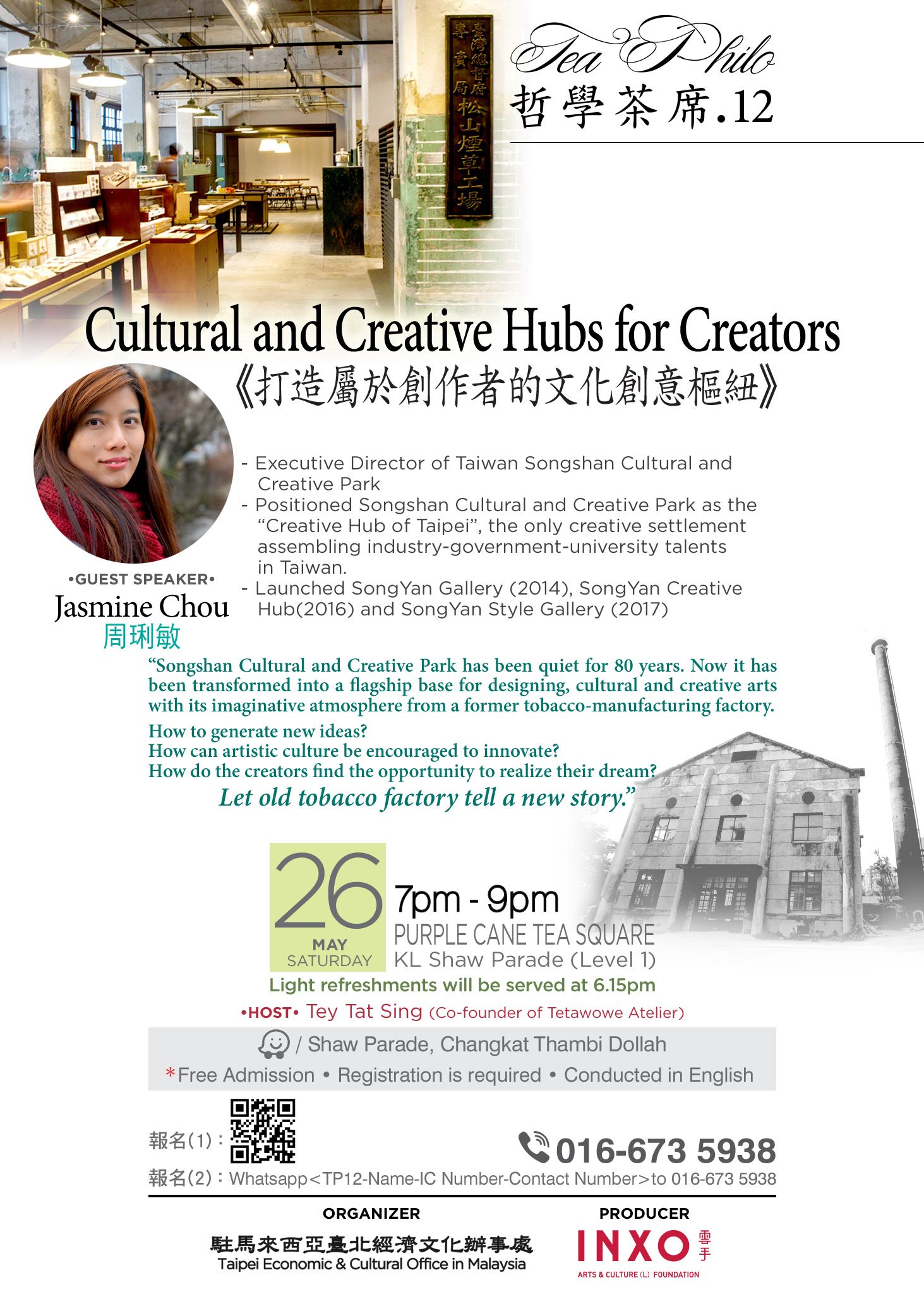 "Songshan Cultural and Creative Park has been quiet for 80 years. Now it has been transformed into a flagship base for designing, cultural and creative arts with its imaginative atmosphere from a former tobacco-manufacturing factory.
How to generate new ideas?
How can artistic culture be encouraged to innovate?
How do the creators find the opportunity to realize their dream?
Let old tobacco factory tell a new story."
Guest Speaker:
Jasmine Chou( 周琍敏)
– Executive Director of Taiwan Songshan Cultural and Creative Park
– Positioned Songshan Cultural and Creative Park as the "Creative Hub of Taipei", the only creative settlement assembling industry-government-university talents in Taiwan.
– Launched SongYan Gallery(2014), SongYan Creative Hub(2016) and SongYan Style Gallery(2017)
Host:Tey Tat Sing(Co-founder of Tetawowe Atelier)
Date:26 th May 2018(Sat)
Time:7pm- 9pm
*Light refreshments will be served at 6.15pm
Location:Purple Cane Tea Square, KL Shaw Parade(Level 1)
Waze: Shaw Parade, Changkat Thambi Dollah
* Free Admission, registration is required
* Conducted in English.
Registration:
(1) https://goo.gl/3PThP8
(2) Whatsapp & to 016-673 5938
Hotline:016-673 593
Organizer:Taipei Economic & Cultural Office in Malaysia
Producer: INXO Arts & Culture (L) Foundation
————
Tea Philo is organized by Taipei Economic & Cultural Office in Malaysia, produced by INXO Arts & Culture (L) Foundation.
It is a series of sharing sessions revolving the discussion of philosophies and humanities. It intends to build cultural and social capital through salon talks with tea. In the natural environment of tea appreciation, everybody could converse in close proximity. Luminaries from Taiwan will be invited to Malaysia to share their experiences and engage the local cultural communities promoting mutual learning. It is a meaningful cultural exchange platform for Taiwan and Malaysia.