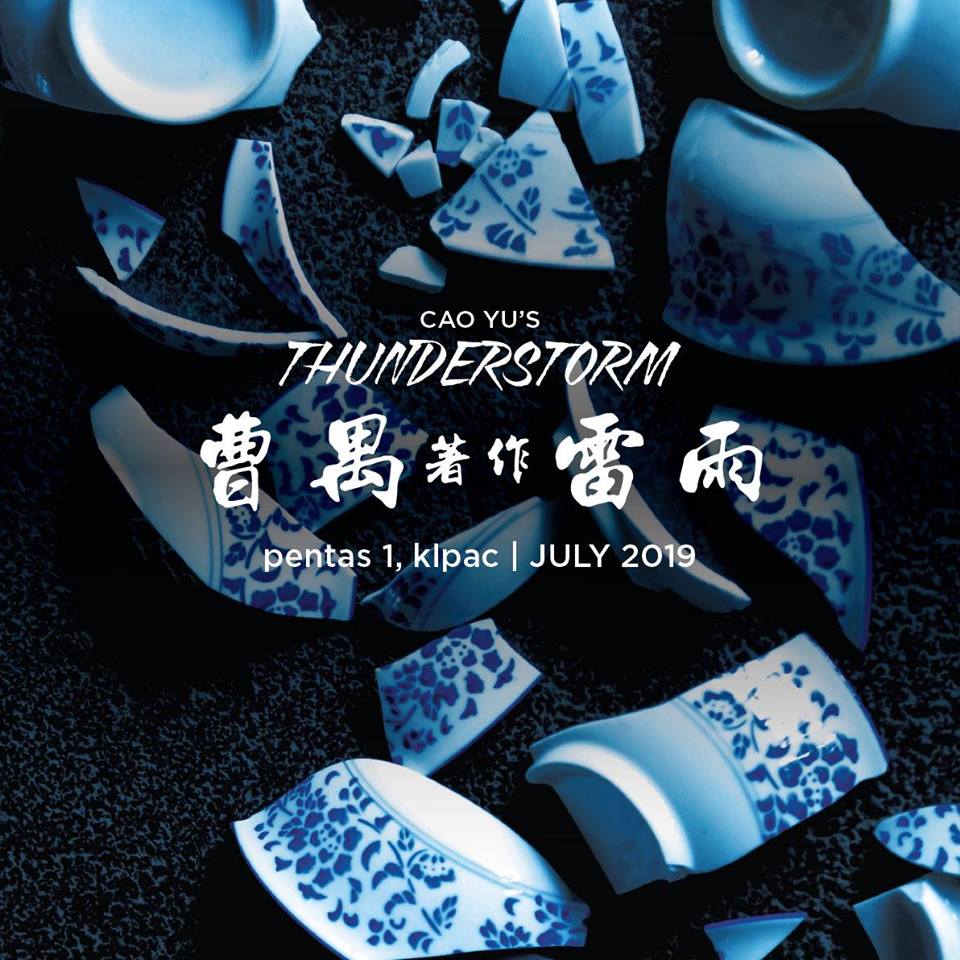 Thunderstorm 雷雨 ⚡⚡
Following the 2017 sold out production in English, the leading lady of Malaysian theatre Dato' Dr. Faridah Merican will now be directing Tsao Yu's masterpiece in Hokkien and Cantonese. The Actors Studio will be staging the epic family saga "Thunderstorm" 《雷雨》 with the support of The Embassy of the People's Republic of China in Malaysia as part of its 30th anniversary celebrations made possible by Yayasan Hasanah.
Now Thunderstorm is no ordinary play. It is considered one of China's most famous modern play written by Tsao Yu otherwise known as China's Henrik Ibsen. Set in Ipoh, this new version of Thunderstorm will see an almost brand new cast featuring well-known actors and award-winning personalities.
At the heart of it, Thunderstorm is a drama about family, society and corruption. Chou Pu-Yuan is the head of a wealthy, successful and seemingly happy household. But a storm is gathering. For behind the veneer of respectability lies of a web of intrigue, and a dark family secret.
Tickets:
Category Chou: RM 100
Category Lu: RM 80
Category Helper: RM 60
Concession (TAS Card / Senior Citizen / Disabled / Students): RM40
Early Bird Promotion (Ends 31 May):
Category Chou: RM 80
Category Lu: RM 60
Category Helper: RM 40
Concession (TAS Card / Senior Citizen / Disabled / Students): RM40
** All inclusive of RM3 ticket handling fee.
** Senior Citizens: 60 years old and above.
Language:
以粤语及福建话演出,附英文字幕。
Cantonese and Hokkien with English surtitles.
The Team:
Director & Executive Producer | Dato' Dr. Faridah Merican
Assisted by | Easee Gan
Artistic Director | Joe Hasham OAM
Set Designer & Builder | Paul Hasham
Costume Designer | Beatrice Looi
Lighting Designer | Yusman Mokhtar
Sound Engineer | Khairil Imran
Cast:
Amelia Tan 爱美丽亚
Brian Chan 陈彦衡
Izen Kong 龚杰尉
John Tan 陈浚
Mark Beau de Silva
MayJune Tan 陈美君
Paige Chan 郑雨萍
Season Chee 徐世顺
Amir Hazril Harith
Benedict Chin 陈文胜
Leong Chong Hong
Oxford Tong