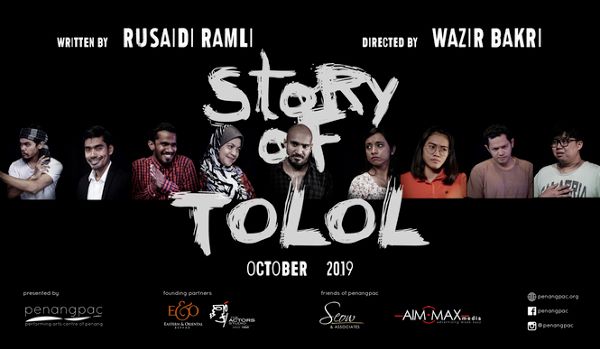 STORY OF TOLOL | 傻瓜正傳
by penangpac and sponsored by Penang State Government
(10 – 13 Oct 2019)
* Tragicomedy | 悲喜劇
* In Malaysian English with surtitles | 英語附上英文字幕
* Age Limit : > 12
Purchase NOW | 立即購票 | Beli Ticket SEKARANG :
https://proticket.com.my/penangpac-story-of-tolol/
or Call | 或聯繫 :
penangpac +604-899 1722 / 2722
(10am – 6:30pm Daily)
+ + +
SYNOPSIS
[ENGLISH]
Story Of Tolol inspired by Malay script Kontradiksi Tolol, written by Rusaidi Ramli. It is a tragic comedic play that has widely known and performed in Kuala Lumpur. This adaptation will be directed by Wazir Bakri. Raju is a coconut tree climber who has conflict within himself after falling from a jackfruit tree twice. Raju is increasingly crazier and often creates a breach and rages in the village. The villagers, including his wife, Priya considers her husband Raju to be mentally ill because Raju loves his gamecock named Rikki more than her. Eventually Priya with her neighbour, Mak Som has brought Raju to hospital and even met bomoh in the village as they have suspected him to be possess by ghost. Is Raju actually crazy, incarnated by ghost or maybe he has an untold story?
[中文]
《傻瓜正傳》(Story Of Tolol) 故事改編自本地劇作家魯塞迪 ・藍利 (Rusaidi Ramli) 所創作的馬來劇本 Kontradiksi Tolol (傻子的矛盾)。這齣悲喜劇曾經在吉隆坡演出並打響名堂,這次檳城首演將由導演瓦齊爾・巴克里 (Wazir Bakri) 操刀。拉祖為一名採椰工,自從他不小心從波羅蜜樹上摔下來兩次之後,他就變得神經兮兮。拉祖的症狀愈發嚴重,時常與村民們發生衝突,就連他的妻子比莉雅 (Priya) 也認為拉祖腦筋有問題,因為拉祖愛他那隻名叫瑞奇(Rikki) 的鬥雞更甚於他的妻子。比莉雅與鄰居瑪宋 (Mak Som) 帶著拉祖四處求醫,甚至拜訪巫師作法。拉祖究竟是瘋了,還是被鬼附身,或者他只是有說不出口的苦衷而已?
[BAHASA MELAYU]
Kisah Si Tolol diinspirasikan dari skrip Kontradiksi Tolol oleh penulis Rusaidi Ramli. Teater genre tragik komedi ini pernah dipentaskan beberapa kali di Kuala Lumpur dan pernah memenangi skrip terbaik . Adaptasi skrip kali ini ditulis oleh Ilya Rusaidi ke Bahasa Inggeris dan akan diarahkan oleh Wazir Bakri di pentas penangpac. Cerita ini mengisahkan Raju seorang pemanjat pokok kelapa yang mengalami konflik dalam dirinya setelah terjatuh dari pokok nangka sebanyak dua kali. Keadaan Raju menjadi semakin teruk dan sering membuat kecoh dan mengamuk di kampung tersebut. Orang-orang kampung termasuk isterinya Priya turut menganggap suaminya Raju mengalami masalah mental kerana Raju lebih menyayangi ayamnya yang bernama Rikki dari isterinya. Akhirnya Priya bersama jirannya, Mak Som membawa Raju berubat di hospital dan juga berjumpa dengan bomoh di kampung tersebut. Adakah Raju sebenarnya gila, dirasuk oleh hantu atau dia mempunyai cerita yang tersimpan di hatinya?
+ + +
SHOW INFO | 演出資訊 | MAKLUMAT PERSEMBAHAN
DATE | 日期 | TARIKH :
10 – 13 Oct 2019 (Thu – Sun)
TIME | 時間 | MASA :
10 Oct 2019 (Thu) @ 11am (School booking)
11 – 12 Oct 2019 (Fri) @ 8:30pm
13 Oct 2019 (Sun) @ 3pm
VENUE | 地點 | TEMPAT :
stage 2, penangpac
檳城表演藝術中心 貳號劇場
TICKET PRICE | 票價 | HARGA TIKET :
RM 40 (Adults)
RM 35 (Students, Senior Citizens above 60, OKU and TAS Card Holders)
PROMOTION | 優惠 | PROMOSI :
Early Bird : RM 30 (valid until 26 Sep)
Group Booking : RM 28 (10 tickets and above)
FOR GROUP BOOKING & TICKET PURCHASE
penangpac's Box Office +604-899 1722 / 2722 (10am – 6:30pm daily)
Purchase NOW | 立即購票 | Beli Ticket SEKARANG :
https://proticket.com.my/penangpac-story-of-tolol/
or Call | 或聯繫 :
penangpac +604-899 1722 / 2722
(10am – 6:30pm Daily)
+ + +
HOW TO BUY TICKETS | 如何購票:
[1] Box Office at Performing Arts Centre of Penang (penangpac) – open daily from 10am – 6:30pm, located at Level 3A, Quay One, Straits Quay.
親臨檳城表演藝術中心 (penangpac) 售票櫃台 – 營業時間 10am – 6:30pm(全年無休) [2] Phone Purchase via penangpac at +604-899 1722 / 2722 – phone lines active daily from 10am – 6:30pm. *Credit Card required*
電話購票(需提供信用卡號)請撥:+604-899 1722 / 2722 [3] Online Purchase via TicketPro Malaysia at
網路購票請瀏覽
www.proticket.com.my
[4] Any Point-of-Sale outlets using the Proticket Malaysia system, e.g. The Kuala Lumpur Performing Arts Centre (klpac).
*** No Reservations | 不開放訂位
*** No Refunds | 恕不退費
+ + +
penangpac's Website :
http://penangpac.org/content/display/article/site:penangpac-param:story_of_tolol-link:1750