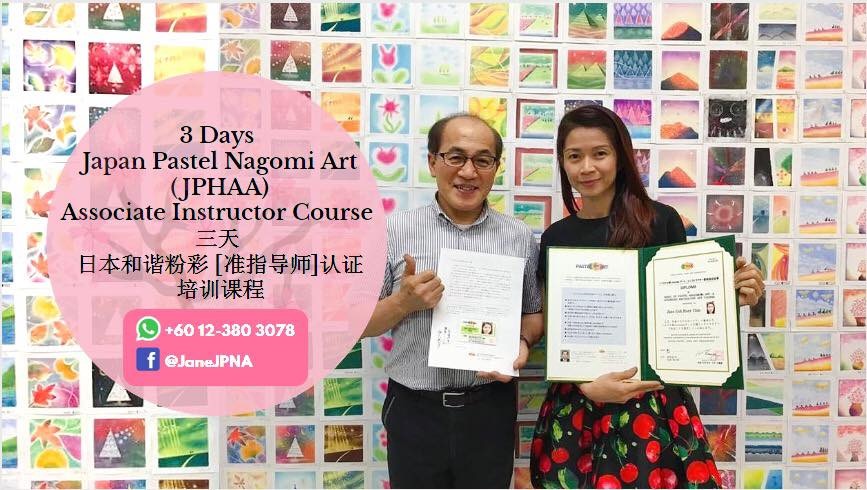 拥有一张日本认证老师文憑,以及成为"日本和谐粉彩希望艺术恊会"的老师之一,已不是梦想了。
无论你是成人、家长、老师或想转换工作性质及对艺术有兴趣的人,欢迎来询问。🌼🌼🌼
疗愈的色彩
日本和谐粉准指导师认证培训班。
三天的课程特色:
如实传递创办人细谷先生的创作理念和精神。
仔细扎实的技巧练习二十幅画。
课程收获:
透过三天深入浅出的学习,创作属于自己的粉彩画作,内容包括写景、情感流露、抽象概念、表达或转化等,学习多种粉彩技巧,借由生活化多元材料,表达你心中各种感受。亦可起到疗愈身心的效果。
成功申请JPHAA证书后,并可开办粉彩体验班/工作坊。
之后还可继续完成一天的准升正指导师课程。
欢迎私讯预约上课时间、地点。
📞012-3803078 https://janegoh.wasap.my/
更多的详情与报名:https://forms.gle/WEyM8E8EVtmxD4fVA
Do you have interest or passion want to be Japan Pastel Nagomi Art Instructor?
Wish to find a way or new skill to startup your own creative business?
Or just simply want to learn and create Pastel Nagomi Art(PNA) as a hobby for your own desired lifestyle?
Well, contact me now!💃
3 days Pastel Nagomi Art Associate Instructor Course
– Learn the background, mission and vision of PNA.
– Learn the skills and techniques to create 20 beautiful art pieces.
What will you learn?
– Various painting skills and techniques.
– Different themes of PNA which consists of scenery, seasons, emotions, aroma, greeting, hope and spirituality.
– Upon completion of this course, you will receive a certificate from Mr Norikatsu Hosoya, the founder of Japan Pastel Hope Art Association (JPHAA). Once certified as an Associated Instructor, you may conduct Nagomi Art workshops and share the happiness and beauty of PNA around to more people.
If you have an enquiry about this course, please contact me.
📞012-3803078. https://janegoh.wasap.my/
For more details and registration: https://forms.gle/WEyM8E8EVtmxD4fVAv
留意接下来其他课程开课时间。
🌻16-18 Mar 2020 :
日本和谐粉彩准指导师培训课程
Japan Pastel Nagomi Art Associate Instructor Course
课程详情: https://forms.gle/3hJ8NfoXEKkakpeZ6
地点:彭亨,直凉 Triang, Pahang
🌻14-17 April 2020 :
日本和谐粉彩准指导师培训课程
Japan Pastel Nagomi Art Associate Instructor Course
课程详情: https://forms.gle/3hJ8NfoXEKkakpeZ6
地点:双溪龙,雪兰莪 Sungai Long, Cheras Kajang,Selangor
🌻12-14 May 2020 :
日本和谐粉彩准指导师培训课程
Japan Pastel Nagomi Art Associate Instructor Course
课程详情: https://forms.gle/3hJ8NfoXEKkakpeZ6
地点:双溪龙,雪兰莪 Sungai Long, Cheras Kajang Selangor
🌻26-28 Jun 2020 :
日本和谐粉彩准指导师培训课程
Japan Pastel Nagomi Art Associate Instructor Course
课程详情: https://forms.gle/3hJ8NfoXEKkakpeZ6
地点:双溪龙,雪兰莪 Sungai Long, Cheras Kajang, Selangor
——————————❤️❤️❤️—————————
另外有兴趣其他的课程与粉彩工作坊欢迎私讯安排上课时间。
私讯联络:"
WhatsApp: https://JaneGoh.wasap.my
电话号码:0123803078
电邮: [email protected]
——————————❤️❤️❤️—————————-
目前有开办的课程与工作坊/体验班如下:
日本和谐粉彩Japan Pastel Nagomi Art
🌸日本和谐粉彩准指导师课程
🌸日本和谐粉彩正指导师课程
🌸日本和谐粉彩工作坊(成人班/儿童班/亲子班)
慈しみのばらアト玫瑰粉彩 Love Rose Art
🌹【慈しみのばらアト】玫瑰粉彩师资课程
🌹玫瑰粉彩体验班
结晶之花系列 Flower of Crystal Art(FOCA)
🌿结晶之花-基础班课程
🌿结晶之花-翼之花课程
🌿结晶之花-透花变化课程
🌿结晶之花-体验班
🌿结晶之花-爱心气球体验班
🌿结晶之花-翼之花体验班
🌿结晶之花-单色透花体验班