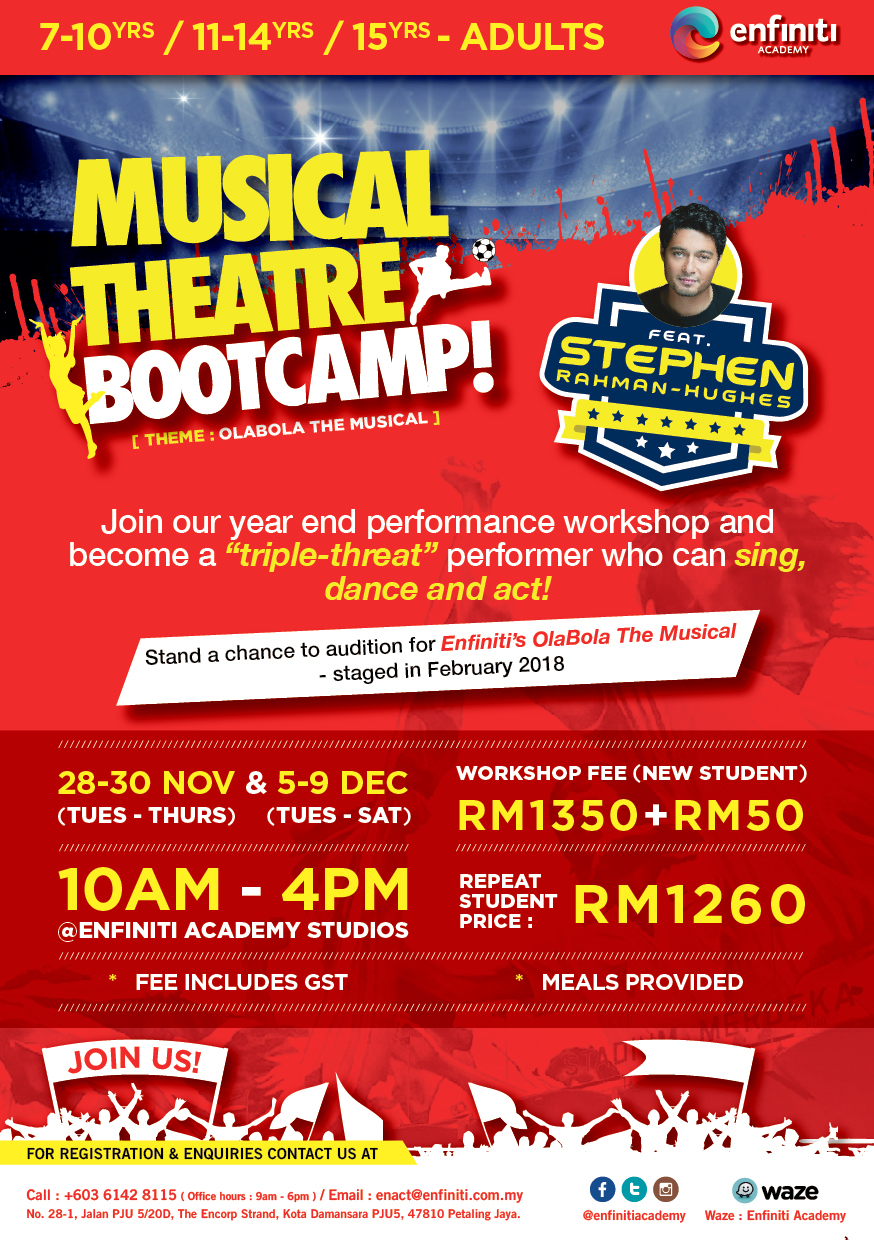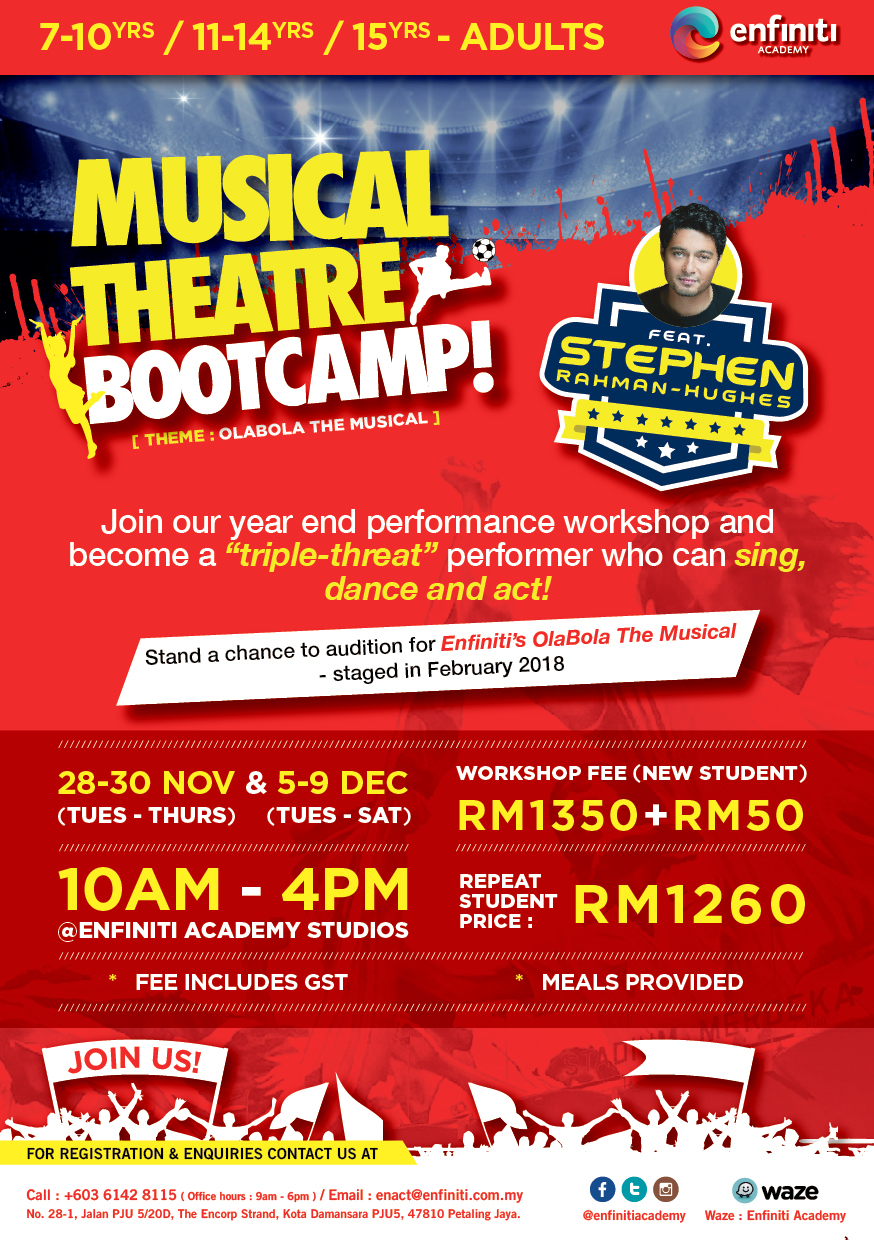 Musical Theatre Bootcamp
Have you ever thought about delving into theatre but have always been too afraid to do so? Or do you have a child with a budding interest in the performing arts? Or perhaps you have an interest in the world of singing, dancing and acting which you would like to indulge in, as your pastime. Well guess what - there is a perfect program to explore one's hidden talent, not just for you, but for all your family and friends.
Enfiniti Academy's exhilarating Musical Theatre Bootcamp program is back! It is an intensive workshop to prepare all budding superstars in the hope of becoming the next big performing arts "triple threat" or simply put, an individual who will be able to sing, dance and act simultaneously! Or it could be an opportunity to do something different, creative and unique.
This year's 8-day boot camp workshop will give students the opportunity to be trained by a West End Star, fresh from Disney's musical "Aladdin" in London, the award-winning "triple threat" himself, Stephen Rahman-Hughes. The British-Malaysian is an accomplished dancer, singer and actor having played lead roles in productions such as West End's "Bombay Dreams" and our homegrown "Puteri Gunung Ledang The Musical".
This workshop will also give students an exclusive chance to audition for "OlaBola The Musical" that will be staged in the newly renovated Istana Budaya from 8 February until 11 March 2018. Participants will be auditioned during the showcase on the last day of the workshop (Saturday, 9 December 2017).
Details on the workshop as per below:
Date: 28 - 30 Nov & 5 - 9 Dec (8-day boot camp)
Time: 10:00am – 4:00pm
Venue: Enfiniti Academy Studios (No 28-1, Jalan PJU 5/20D, The Encorp Strand, Kota Damansara PJU 5, 47810 Petaling Jaya)
Showcase Presentation Day/Date: Saturday, 9 December 2017
Age Groups: 7 - 10 years | 11 -14 years | Young Adults
Admission: RM1,350 (new student) | RM1,260 (repeat student)
+RM50 – one-time registration fee for new students
*Fee includes 6% GST
*Meals will be provided
Spaces for the workshop are limited. For full details and to book your place for this energy-packed workshop, contact the team at Enfiniti Academy by either phone (03-6142-8225) or email (enact@enfiniti.com.my). For updates on Enfiniti Academy's happening, follow their Facebook (https://www.facebook.com/enfinitiacademy/), Instagram (https://www.instagram.com/enfinitiacademy/) and Twitter (https://twitter.com/EnfinitiAcademy) pages at @EnfinitiAcademy.
What are you waiting for? Sign up today!
Box Office Opens
From 28th November 2017 to 9th December 2017
Venue
Enfiniti Academy Studios,No 28-1, Jalan PJU 5/20D, The Encorp Strand, Kota Damansara PJU 5,Petaling Jaya,Selangor,47810,MY
WEBSITE
https://www.facebook.com/enfinitiacademy/),
For enquiries:
Siti Nurbaya Hassan
Tel: 61428225
Email: enact@enfiniti.com.my
Other Events You May Like